Martha's Table and Community of Hope to Anchor Horning Brothers/Horning Family Fund's Development of Community-Based Programs and Mixed-Income Housing
A leading real estate developer, a family foundation, and two community-serving nonprofits joined Mayor Muriel Bowser, community leaders and residents in the milestone groundbreaking today of a new community programs campus in Southeast Washington. The Commons at Stanton Square represents a partnership between the local community, Horning Brothers, the Horning Family Fund, Martha's Table, and Community of Hope to support the healthy development of children and their families.
"Today's groundbreaking is a celebration, not just of new construction, but of people from different perspectives coming together to support better outcomes for families and children," said Joe and Lynne Horning, founders of Horning Brothers and the Horning Family Fund, respectively. "Through collaboration, we have engaged a powerful commitment of resources and dedication to exceed what any single entity might accomplish individually. We are pleased to support the community in its own aspirations for the future of its children."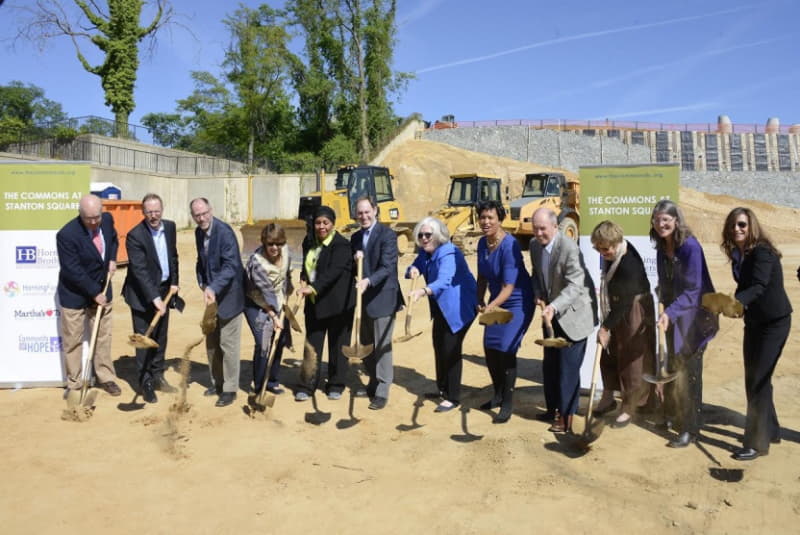 To advance the project, Horning Brothers donated the land and development capital and Horning Family Fund provided $10 million in seed funding. Martha's Table and Community of Hope will provide community programs including early childhood education, nutrition planning, parental support, emotional wellness programs, and out-of-school programs for children and teens.
Located at 2375 Evans Road, SE, The Commons, Stanton sits on a hilly eight-acre campus divided into two sections. The 57,000-square foot building designed by architects Cox, Graae, &Spack will house Martha's Table and Community of Hope and will include space that can be used by other community-serving entities. The lower campus at the intersection of Pomeroy and Stanton Roads will consist of 120 affordable rental units (1, 2, & 3 bedrooms) including 13 units reserved for families supported by CoH's permanent supportive housing as well as 42 market rate townhomes for sale designed by TortiGallas.
"We have great cause for celebration. This groundbreaking signals increased momentum in expanding our breadth of services in this neighborhood – which we began with our the first Joyful Food Market in 2015 and again in 2016 as we began our older youth workshops and soon our early childhood center will follow" said Patty Stonesifer, President and CEO of Martha's Table. "We also celebrate and honor our extraordinary partnership with Horning Brothers, Horning Family Fund, Community of Hope and community residents, as we all work to ensure that children and families thrive."
"At a time when too many families struggle with significant stresses and trauma, The Commons will enable us to provide a safe and welcoming environment to support emotional well-being and to help families thrive. Sharing a location with Martha's Table will allow us to provide a seamless set of services for children and families and to achieve positive outcomes,' said Kelly Sweeney McShane, President and CEO of Community of Hope.
About Horning Brothers Inc.
Founded in 1958, Horning Brothers has developed (and still manages) over $600 million in apartments and retail centers in the Washington, DC area. The company has built 3,000 units of housing in Washington, DC alone. Two of the company's most notable projects are The Saratoga, an award-winning luxury high rise on Connecticut Avenue and Tivoli Square, an adaptive re-use of the National Historic Landmark Tivoli Theater in Columbia Heights. The mixed use project was awarded Washington Business Journal's "Best Real Estate Deal of 2004" and features a 250-seat theater, a 52,000sf supermarket, 40,000sf of additional office and retail and 40 condominiums.
About Horning Family Fund
The Horning Family Fund (HFF) was established in 1990 by Lynne & Joe Horning. It is based in and a product of Washington, DC. HFF focuses on Ward 8 to address the disparity of opportunities and services for children and their families. The board includes Lynne & Joe's four children. The fund is currently housed at The Community Foundation for the National Capital Region
About Martha's Table
For over 35 years, Martha's Table has worked to support stronger children, stronger families, and stronger communities by increasing access to quality education programs, healthy food, and family supports. Martha's Table believes that every child deserves the opportunity for their brightest future, and a deeply engaged family and community committed to their success. For more information, please visit www.marthastable.org.
About Community of Hope
Founded in 1980, Community of Hope (COH) is an award-winning and innovative nonprofit, meeting the needs of over 13,000 Washington, DC residents each year. Our mission is to create opportunities for low-income families, including those experiencing homelessness to achieve good health, a stable home, family-sustaining income, and hope. We operate three community health centers, offering medical, dental and emotional wellness as well as extensive patient supportive services. We work to end and prevent homelessness by providing housing and supportive services such as employment search and training, housing search, mentoring and youth services. At The Commons at Stanton Square, we look to provide support for parents, counseling that promotes emotional wellbeing, and social services.