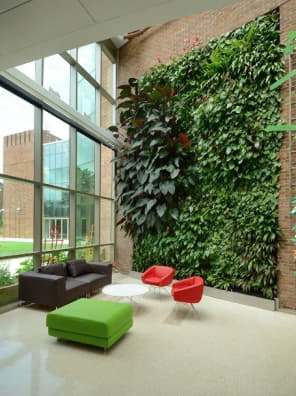 Horace Mann Elementary School, located in Northwest, Washington, DC, has achieved LEED Gold certification from the U.S. Green Building Council. The LEED green building certification system offers an opportunity for builders and building owners to measure the sustainability efforts included in the design, operation and maintenance of newly constructed or renovated buildings.
"Working in the nation's capital, it's especially important for us to model sustainability in building design and operation," said Marshall Moya CEO Paola Moya. "The Gold Certification will help raise awareness for commitment to sustainable practices, not only for the students, families and faculty for this particular school, but also among the community at large."
On the heels of the certification, the project was awarded a Best Project honor in the K-12 category by ENR MidAtlantic for 2017. Projects are honored for contribution to the industry and community, as well as construction and design quality.
A large-scale modernization and renovation of Horace Mann was completed in 2016, which included a 17,000 sq. ft. existing renovation and 33,000 sq. ft. addition. The project created high-functioning environments that would support the school's Reggio Emilia teaching philosophy, which emphasizes the importance of collaboration and experiential learning, and also stipulates that the environment play a central role in the process of making learning meaningful.
The design team understood the need to create spaces that promote learning through the joint efforts of students, teachers, and parents and encourage learning about the environment.The proposed design reflects this mission by providing communal open space carefully placed throughout the campus, a green roof that fosters sustainable urban gardening, an intimate terrace (or open-air classroom) placed on the second floor between classrooms, and an atrium that welcomes students, visitors, parents, and teachers with a lush green wall. Communal spaces such as the art room, science gallery, and multipurpose room can be seen from the street and hallways. The transparency of watching collaboration at its best is facilitated through glass walls and movable partitions; transforming several spaces into one. The library, located towards the south end of the building, promotes a quiet and zen-like environment by overlooking double rows of cherry trees and providing accessibility to outdoorreading spaces and seating. The gym/multi-purpose room not only
accommodates performances and sports, but it also opens to the outdoors, blurring the separation of interior and exterior spaces.In addition to these green design features, LEED certification was awarded for energy use, lighting, water and material use as well as incorporating a variety of other sustainable strategies. By using less energy and water, LEED certified buildings save money for the facility and surrounding community, reduce greenhouse gas emissions, and contribute to a healthier environment.
"With each new LEED-certified building, we get one step closer to USGBC's vision of a sustainable built environment within a generation," said Rick Fedrizzi, President, CEO & Founding Chair, U.S. Green Building Council.
For Horace Mann, LEED certification was based on key design and construction features, some of which included:
- Design elements that enhance community connectivity
- Indoor environmental quality, including low-emitting materials and abundance of natural light and views/access to outdoors
- Use of recycled content and regional materials
- Water efficiency and water use reduction (20% reduction); including high marks for water-efficient landscaping
About Marshall Moya Design
With a portfolio of high-profile projects, a team of artistic innovators, and a collective commitment to advancing communities, Marshall Moya Design has earned recognition and accolades on regional, national, and international levels. As a boutique architecture and design studio, we believe that brick and mortar should connect and inspire people, while supporting and improving communities. Marshall Moya Design projects span the commercial, institutional, civic, and cultural sectors. Firm team members have designed a number of iconic projects in the Washington, D.C. region, including The Howard Theatre; Chuck Brown Memorial; Reunion Square in Southeast; dynamic elementary schools; and the new Student Center at the University of the District of Columbia. Current projects include the D.C. United Stadium, the state-of-the-art Wizards Practice Facility, and projects for MGM Resorts International and Metropolitan Washington Airports Authority. Marshall Moya Design is known in the D.C. region as an influential and valuable design partner. Michael Marshall originally founded the firm in 1989 as Michael Marshall Architecture. In 2010, he formed a partnership with Paola Moya to establish Marshall Moya Design, with a commitment to uniting people and strengthening communities through innovative design.For more information visit www.marshallmoya.com.