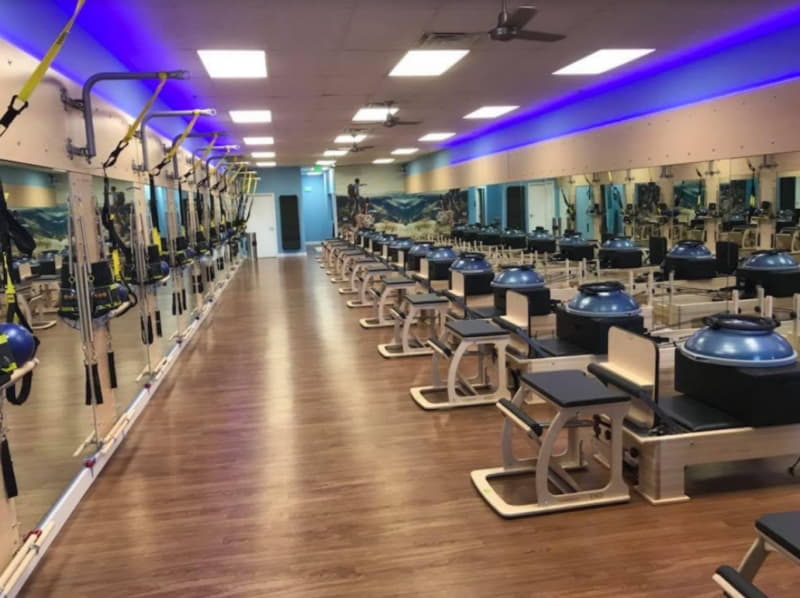 Club Pilates, the nation's largest premium Pilates franchise, is now open in Potomac Falls. Located at 47100 Community Plaza, Suite 130 in Sterling, the new studio offers members total body workouts that help with posture, balance, flexibility and strength.
The light and bright 2,400-square foot studio welcomes members into an inspiring atmosphere where they can choose from dozens of group classes that utilize a variety of equipment, including reformers, EXO chairs, TRX, springboard and Barre. In addition, private and semi-private lessons are offered, featuring Balanced Body's CenterLine® Cadillac reformer.
The Potomac Falls location is owned by local veteran, Vince Black. After serving 24 years in the U.S. Navy, attaining the rank of Chief Petty Officer, Vince returned to civilian life where he worked in the engineering industry until 2016. Interested in going into business for himself, Vince decided to invest in Club Pilates to pursue his commitment to fitness and to make the mind-body principles and high quality equipment-based Pilates affordable to the community.
"I am proud to be able to share the Pilates method, as our studio strives to promote better posture, balance, flexibility and strength in inclusive group environments designed to meet a variety of skill levels," said Black. "The demographics of the Potomac Falls area make it a natural fit for a Club Pilates studio, and we are currently seeking comprehensively-trained Pilates instructors and motivated sales representatives to join our Club Pilates team."
Club Pilates is the first Pilates organization to create a proprietary 500-hour Teacher Training Program designed to thoroughly and safely teach group reformer Pilates classes along with TRX, Triggerpoint, and Barre. With more than 230 locations in 35 states and nearly 400 anticipated to be open by the end of 2017, Club Pilates is seeking additional franchise partners.
For more information about how to become a Club Pilates member in Potomac Falls, please visit www.clubpilates.com/potomacfalls/ or call (571) 525-2282.
About Club Pilates:
Founded in 2007, Club Pilates is a boutique fitness studio that specializes in strength-training classes for anyone, at any age or fitness level. Based in Costa Mesa, CA, the company is experiencing rapid growth and expects to have 350 locations open by the end of the year. With more than 1,000 instructors teaching over seven million workouts each year, Club Pilates is the first studio to create a 500-hour Teacher Training Program designed to thoroughly and safely teach group Pilates apparatus classes along with TRX, TriggerPoint, and Barre. In 2017, Club Pilates was ranked No. 4 in Inc. Magazine's Inc. 5000 and Inc. 500, listed in Entrepreneur Magazine's Franchise 500 ranking and ranked No. 17 on the magazine's 2017 Top New Franchise list. To learn more about the Pilates franchise opportunity, visit https://www.clubpilatesfranchise.com.