$12 million in planned capital improvements including new spec suites and coworking concept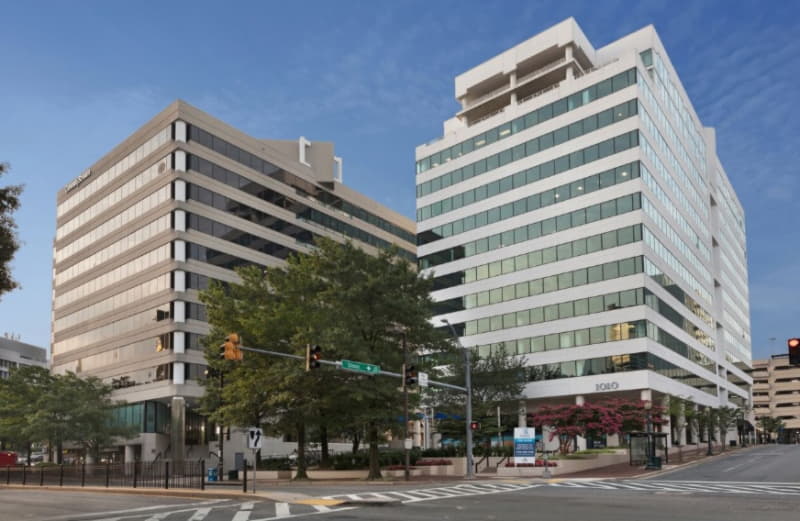 Bridge Investment Group's subsidiary Bridge Office Fund Manager LLC (Bridge Office) announced today the acquisition of Station Square, a 510,200-square-foot, Class-A office complex in the center of the CBD in Silver Spring, Maryland. Directly adjacent to a D.C. Metrorail station and featuring premier access to the Capital Beltway (Interstate 495) and downtown Washington, D.C., the three-building complex includes onsite parking and boasts one of the metro area's best transit-oriented, live-work-play locations.
Bridge plans to invest more than $12 million for renovations to the three buildings, which are located at 1100 Wayne Avenue, 1010 Wayne Avenue and 8484 Georgia Avenue. Capital improvements include modernized lobbies, upgraded exteriors, modernized elevators, and significant improvements to mechanical systems.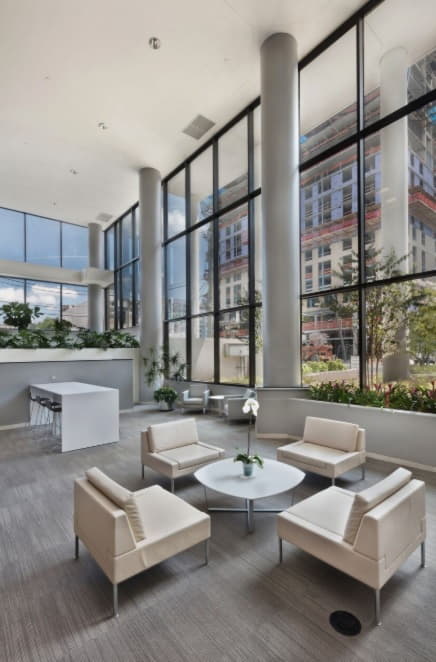 A transformed courtyard with new and exciting retailers and revamped entry into the 1010 Wayne Avenue building will encourage community across the complex. Bridge also plans to unveil a new co-working concept at 8484 Georgia Avenue to create a more modern and tech-centric vibe and appearance. The bi-level, modern office space overlooking Wayne Avenue will be heavily amenitized for tenants and showcase features such as modern common areas with a coffee bar, communal work space and a state-of-the-art conference room.
The new owners plan to reposition select office spaces at Station Square for a new spec suite program to address growing market demand for move-in ready offices. The spec suites will include open floor plans, creative lounge space and an array of tech-friendly amenities that are relevant to the next generation of office users.
"The greater D.C. region continues to benefit from a diversifying job market, the influx of Fortune 500 companies and a talented workforce," said Tommy Spinosa, Acquisitions Director of Bridge Investment Group. "Station Square is well positioned to capitalize on growing demand for future-ready workspace that offers walkability, a sense of community and urban-style amenities within a few steps of the Metro. Our planned improvements will create a world-class work environment that helps our tenants flourish and achieve the bottom-line results they seek."
Station Square boasts a Walk Score of 99 and is within close proximity to several existing retailers, restaurants, fitness studios, hotels and residential units, with additional units and hotels under construction or projected for delivery within the next few years. In 2022, the submarket will also benefit from the completion of the Metrorail's Purple Line. Currently under construction, the light rail will provide a direct connection between the Metrorail's Red, Green, and Orange lines as well as the MARC and Amtrak commuter rail stations, further enhancing Station Square's accessibility.
Originally built between 1982 and 1987, Station Square has undergone more than $2 million in capital improvements since 2016 and is currently 80 percent occupied. Recent upgrades have included lower and penthouse roof replacement, first-floor lobby renovations, exterior paint and handrails, fire alarm systems, deck coating, courtyard landscaping and patio improvements.
Considered a fast-rising player in the U.S. commercial office market, Bridge has been increasingly active in the market this year. Bridge has closed on more than 7 million square feet of office space nationally in 2018, including the recent acquisitions of The Campus at Sunrise in Reston, Va., Denver West Business Park in West Denver, Co.,One North LaSalle in Chicago and O'Hare International Center in Rosemont, Ill.
Bridge Commercial Real Estate, the operating company for Bridge Office, will oversee all leasing, property management and redevelopment work at Station Square. Office spaces ranging from 1000 square foot suites up to a 45,000 square foot top floor contiguous block are currently available, with the first round of spec suites tentatively scheduled to deliver in 2019. Leasing will be led by Ben Powell and Gwen Fraker of Cushman & Wakefield.
About Bridge Investment Group
Bridge is a privately held real estate investment management firm with $13.5 billion in assets under management. Bridge combines its more than 1,200-person, nationwide operating platform with specialized teams of investment professionals focused on select US real estate verticals, which Bridge believes offer above-market opportunity: Multifamily; Office; Seniors Housing and Medical Properties, Affordable Housing and Real Estate Debt Strategies.
Bridge principals are owners and operators who are deeply rooted in their assets. In-depth knowledge of local markets, as well as extensive real asset and capital markets expertise, enable Bridge to develop prolific deal flow and to deploy active asset management and monitoring across its business lines.
Bridge's asset management strategy is specialized and focused in a way that emphasizes current income and capital appreciation while mitigating risk. By making improvements that build lasting communities, increase renter satisfaction, and ultimately bring value to investors, Bridge seeks to create alpha at the asset level.
The principals of Bridge have been investing in and improving communities around the US since 1991 and manage private equity funds, separately managed account vehicles, co-investments, and joint ventures. Bridge seeks to transform assets in a manner that maximizes their potential.