Deltek, in Partnership with The American Institute of Architects (AIA), will expand the reach of Avitru and its solutions for architecture, engineering, construction and owners (AECO) and building product manufacturers, to provide more resources, capabilities and expertise to the AECO industry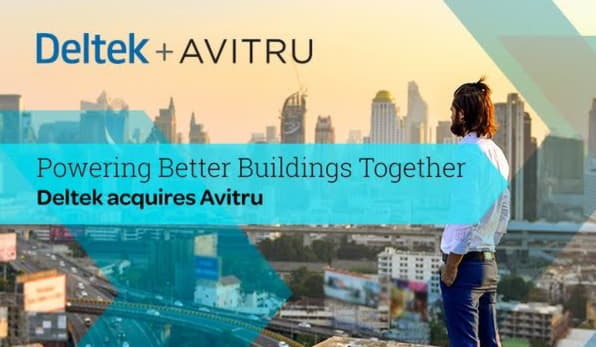 Deltek, the leading global provider of software and solutions for project-based businesses, announced today that it has acquired Avitru – the leader in construction specification content and software. Together, Deltek and Avitru will provide unmatched solutions and services to architects, engineers, contractors, owners and building product manufacturers. This acquisition expands Deltek's offerings for the AECO industry by bringing in more resources, capabilities and expertise.
Avitru,originally known as ARCOM, is headquartered in Atlanta, Georgia. Avitru designs the most trusted and comprehensive building specification systems in the industry including MasterSpec® – a product of The American Institute of Architects, SpecText, SpecBuilder Cloud and e-SPECS.
"Avitru's mission has been to empower architects, engineers, contractors and owners to make better, faster decisions," said Jim Contardi, CEO at Avitru."Now, with Deltek,the incredibly powerful combination of our solutions will give architects even more tools to design, build and operate in a better built environment. Avitru couldn't have found a better home!"
In addition to its unique solutions, Avitru has a strategic partnership withAIA – a 93,000-member organization committed to representing, advocating, and advancing the profession of architecture in the United States. AIA created MasterSpec® 50 years ago in order to support the development of accurate specification documents for construction projects. Currently, MasterSpec® is the most comprehensive and trusted collection of master guide specifications in the architecture and design profession with more than 900 created.As the exclusive distributor of MasterSpec ®, Deltek will continue Avitru's partnership with AIA to provide the most current specification content for the AECO industry and provide easy access to building product manufacturer information.
"This partnership will provide AIA members with a valuable benefit," said AIA EVP and Chief Executive Officer Robert Ivy, FAIA. "By working together, we can deliver exceptional software solutions that position architects with the best possible tools available for specifying building products and materials."
"For decades, Deltek has been working closely with thousands of architecture, engineering and construction firms to deliver the most comprehensive software solutions.Acquiring Avitru is part of our ongoing commitment to invest in innovation and offer deeper solutions for our customers.Together with Avitru, we will deliver even more capabilities to help AECO firms and building product manufacturers serve their clients more efficiently and effectively," said Mike Corkery, President and CEO at Deltek."We also are thrilled to partner with AIA and offer our customers more resources and more expertise. The entire Deltekteam looks forward to working with our new partners and new colleagues at Avitru."
To learn more about the acquisition of Avitru by Deltek, please visit our website.
About Avitru
From conception to construction, AVITRU empowers architects, engineers, contractors and owners to make better, faster decisions. As the exclusive developer of AIA MasterSpec®, AVITRU has leveraged its position in the market to enable the collaborative exchange of expert knowledge to design, build, and operate a better built environment. The AVITRU team is committed to constructing a world where better building leads to better lives. Previously known as ARCOM LLC. www.avitru.com.
About The American Institute of Architects (AIA)
Founded in 1857, AIA consistently works to create more valuable, healthy, secure, and sustainable buildings, neighborhoods, and communities. Through more than 200 international, state and local chapters, AIA advocates for public policies that promote economic vitality and public wellbeing.
AIA provides members with tools and resources to assist them in their careers and business as well as engaging civic and government leaders and the public to find solutions to pressing issues facing our communities, institutions, nation, and world. Members adhere to a code of ethics and conduct to ensure the highest professional standards.
About Deltek
Better software means better projects. Deltek is the leading global provider of enterprise software and information solutions for project-based businesses. More than 23,000 organizations and millions of users in over 80 countries around the world rely on Deltek for superior levels of project intelligence, management and collaboration. Our industry-focused expertise powers project success by helping firms achieve performance that maximizes productivity and revenue. www.deltek.com