Rich Checkan
Precious metals choices feature funds, collectibles and bullion to give investors a variety of ways to ride the upward price trends of the shiny assets.
Gold and silver prices have jumped in the past year, and further gains appear ahead, said Rich Checkan, president and chief operating officer of Rockville, Maryland-based Asset Strategies International. The challenge for investors is to buy precious metals assets that are best for their specific goals.Exchange-traded funds (ETFs) are easy to buy and sell for investors who value liquidity. However, only certain funds allow investors to take direct distribution of precious metals such as gold or silver, which have outperformed equities handily in the past year.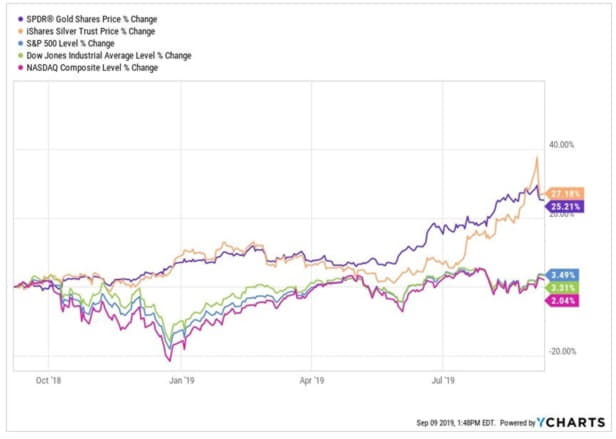 Precious Metals Choices Feature Funds
The chart above for the past 12 months shows SPDR Gold Shares (NYSE:GLD) and iShares Silver Trust (NYSE:SLV) share prices more than quintupling the gains of the Dow Jones Industrial Average, the S&P 500 and NASDAQ. Gold and silver languished in a precious metals bear market between 2011 and 2018 before jumping in the past year. During the last 12 months, SLV soared 27.18 percent and GLD leaped 25.21 percent, while the S&P 500 rose 3.49 percent, the Dow Jones Industrial Average climbed 3.31 percent gain and the technology-laden NASDAQ gained 2.04 percent.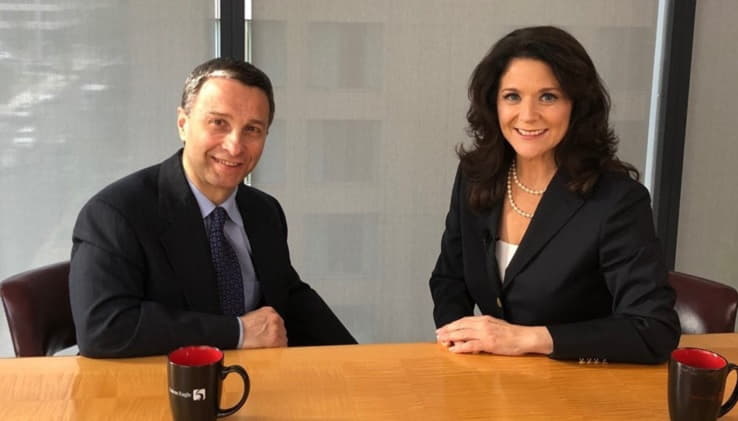 Paul Dykewicz interviews Hilary Kramer, whose new 2-Day Trader service is 10for 10 in recommending profitable trades that are averaging 15-percent returns since its launch.
"A lot of charts have really opened up if you're eager to ride the gold wave and rake in a little profit," said New York-based money manager Hilary Kramer, whose new 2-Day Trader service has notched 10 consecutive profitable trades with an average return of 15 percent since its recent launch. "Both Newmont Goldcorp (NYSE:NEM) and Barrick Gold (NYSE:GOLD) are currently trying to hold technical support after correcting 10-15 percent in the last five days. They're going to need that support to continue their recent rally. Otherwise, I wouldn't be surprised to see them both drop another 10-20 percent before they really get back to work."
To read the rest of Paul's weekly investment column, please click here.
Paul Dykewicz, www.pauldykewicz.com, is an accomplished, award-winning journalist who has written for Dow Jones, the Wall Street Journal, Investor's Business Daily, USA Today, the Journal of Commerce,Seeking Alpha, GuruFocus and other publications and websites. Paul is the editor of StockInvestor.com and DividendInvestor.com, a writer for both websites and a columnist. He further is the editorial director of Eagle Financial Publications in Washington, D.C., where he edits monthly investment newsletters, time-sensitive trading alerts, free e-letters and other investment reports. Paul previously served as business editor of Baltimore's Daily Record newspaper. Paul also is the author of an inspirational book, "Holy Smokes! Golden Guidance from Notre Dame's Championship Chaplain," with a foreword by former national championship-winning football coach Lou Holtz. Follow Paul on Twitter @PaulDykewicz.