THIRD ANNUAL EVENT CELEBRATES BOLDNESS IN BUSINESS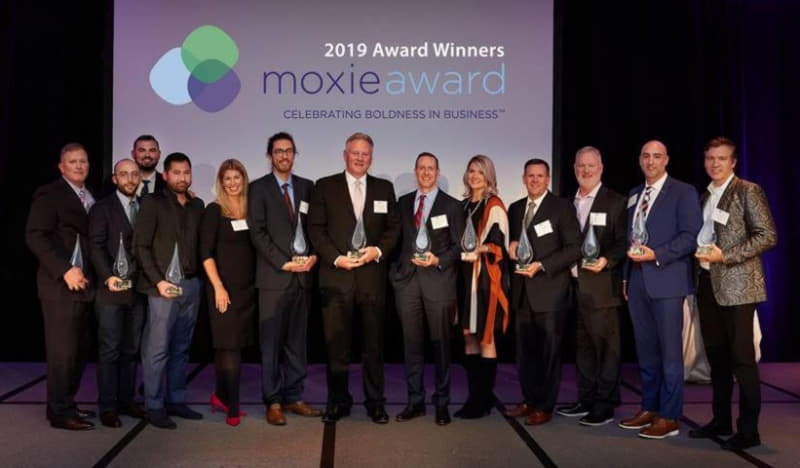 The Moxie Award turned 14 deserving DC area businesses and organizations into 2019 winners last night at the Moxie Award Ceremony & Dinner, a celebration of Boldness in Business. These 2019 winners were honored among more than 130 finalists for making a difference in the marketplace with their bold initiatives, strategic market moves, and moxie. Nearly 400 business leaders attended the event, held at The Ritz-Carlton in Tysons Corner.
"Since beginning the Moxie Award three years ago, we have received hundreds of worthy award entries from the DC area's most innovative companies each year. 2019 was no exception," said Moxie Chairwoman Sarah Cody. "After careful review and evaluation by a panel of third-party judges, this year's 14 winners stood out among their competition for demonstrating exemplary innovation, growth, industry leadership, community service, and local achievements."
The 2019 Moxie Award winners are:

Event attendees had an opportunity to hear stories and insights from executive leaders about their novel strategies, formulas for innovation and success, and most importantly, what moxie means to them. Learn more about the 2019 Moxie Award winners and sponsors at https://moxieaward.com/winners/#selected.
Sponsors
Sponsors of the 2019 Moxie Award include 3Pillar Global, Accelerent, Acorn Financial Group, Berenzweig Leonard, BroadOak Capital Partners, BluSage Catering, Broad Street, Business Benefits Group (BBG), Capital One Commercial Banking, Citybizlist, CohnReznick, CONNECTpreneur, Cordia Partners & Resources, CYwP Fund, Dixon Hughes Goodman, EagleBank, Edge Commercial Real Estate, Insperity, MV Financial, NFP, Print 1, Shulman Rogers, The Buccini/Pollin Group, The McLean Group, Verasolve.