1525 Wilson Blvd. is a premier 12-story building ideally located just three Metro stops from Amazon HQ2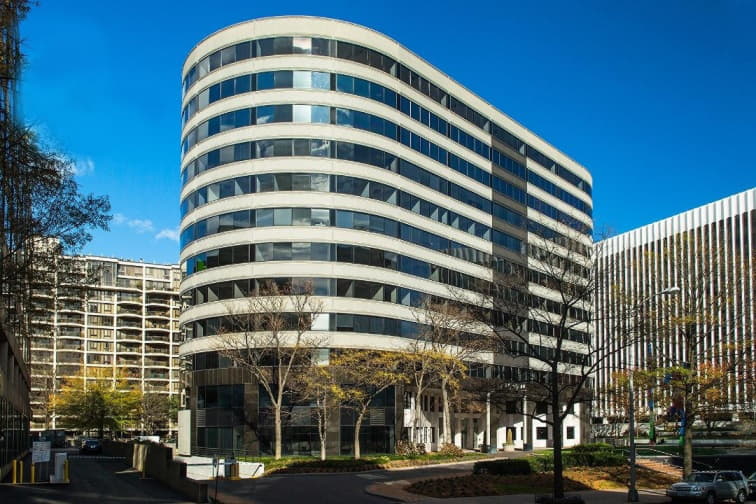 The Meridian Group announced that, on behalf of its third real estate fund, it has purchased 1525 Wilson Blvd., a 12-story Class A office building in Rosslyn, Va. that is just three Metro stops from Amazon HQ2.
The Meridian Group, a real estate investment and development firm based in Bethesda, Md., acquired the 318,729-square-foot building from The Blackstone Group.
"Our two firms have known each other for a long time and are pleased that we could put this transaction together," said Gary Block, Partner and Chief Investment Officer of Meridian; and Rob Harper, Blackstone Real Estate's Head of U.S. Asset Management; in a joint statement.
Ideally situated in the Rosslyn submarket above a newly renovated Safeway grocery store, the LEED Gold-certified building enjoys a robust amenity base featuring a variety of popular stores, restaurants and on-site amenities.
The building is a short walk to the Rosslyn Metro station and offers convenient access to Arlington's major roads, including Route 29, Route 50, the George Washington Memorial Parkway and I-66.
The location is poised to benefit from Amazon's second headquarters location in National Landing as well as the delivery of the nearby Highlands mixed-use development.
The Highlands development is slated to bring 884 luxury residential units in three high-rise towers in 2021, along with 40,000 square feet of retail. The influx of residents next door is expected to foster foot traffic that will support additional retail in surrounding buildings, further enhancing the tenant experience at 1525 Wilson Blvd.
The Meridian Group is planning a modest renovation of the building, now 78 percent leased, and will evaluate improvements to the building's common areas, lobby, conference center, and fitness center in order to deliver an outstanding tenant experience at the property.
"This was an outstanding opportunity to acquire a Class A office building in a prime submarket in the DC region," said Andrew Pence, Senior Vice President at the Meridian Group. "Given its highly desirable location, we are excited to acquire 1525 Wilson Blvd. as our latest investment in the Washington, DC area."
Pence, Kyle Maurer, Vice President; and Mike McCarthy, Associate; handled this acquisition for Meridian.
ABOUT THE MERIDIAN GROUP
The Meridian Group is a real estate investment and development firm based in Bethesda, Md. Since its inception in 1993, Meridian has acquired and developed more than 14 million square feet of office, residential, hotel, mixed-use, and land with a focus on the metropolitan Washington, DC market. To learn more, visit Meridian's website at www.tmgdc.com.