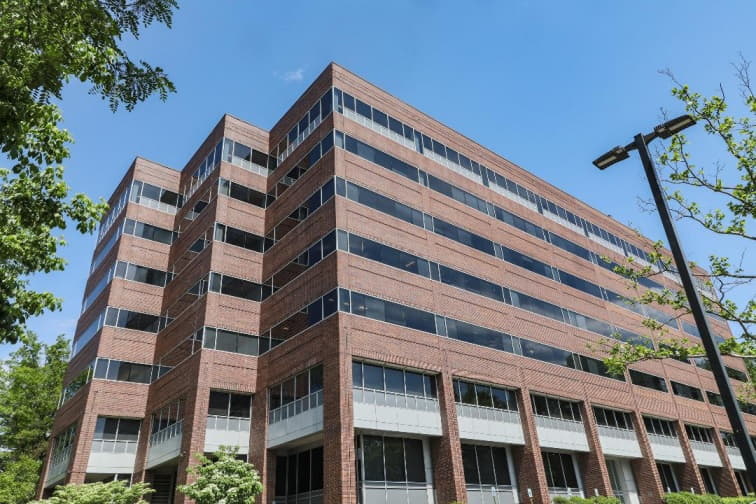 Edge, a full-service commercial real estate firm with offices in Washington D.C., Virginia, Maryland and Pennsylvania, has brokered five leases totaling more than 10,000 square feet of space within Montvale Center. The seven-story, 124,000 square foot commercial office building is located at 18310 Montgomery Village Avenue in Gaithersburg, Maryland. Kenneth Fellows, Partner, Advisory Services and Robert Pugh, Partner, Advisory Services, represented the landlord, Bernstein Management Corporation, for each transaction.
The leases were signed with Acuity Technology Group; D2 Engineering; Instill, Inc.; Structural Rehabilitation Group, LLC; and Ted Ross Consulting, LLC.
Montvale Center features a brick and glass exterior, an on-site fitness center on the first floor, a self-service micro market on the lower lobby, with storage capabilities on-siteand free parking available on two separate lots. The building is situated one mile from Interstate 270, less than four miles from Interstate 370 and less than five miles from the Shady Grove Metro Station. The Intercounty Connector (MD Route 200) is less than six miles from the site. Downtown Washington, D.C. is 17 miles away and Dulles International Airport is less than 30 miles away.
A wide variety of amenities surround Montvale Center including Lakeforest Mall, which is located directly across the street, Gaithersburg Square and an assortment of fast-casual and sit-down restaurant options
"Each of these five companies sought a high-profile commercial office building within a strategically-positioned section of Montgomery County to relocate their existing business operations," explained Kenneth Fellows of Edge. "Instill shifted its corporate headquarters from the Frederick area to Gaithersburg to take advantage of an extremely vibrant business environment near Washington, D.C."
"Montvale Center is awell-maintained property with an on-site engineer that can respond immediately to asset management issues, an amenity that makes the building unique in the Gaithersburg submarket," added Robert Pugh of Edge. "Leasing activity remains brisk for the remaining spaces, with the possibility for corporate signage still available."
Edge is a commercial real estate firm providing a full complement of advisory, leasing, investment sales, management, construction, property management and engineering services to clients throughout the Washington, D.C., Maryland, Northern Virginia, and Pennsylvania marketplaces. Founded in 2007, the company currently leases and manages more than 8.5 million square feet of commercial office, flex/office, industrial/warehouse, retail and mixed-use space. Visit www.edgecre.com.