Developer Inks $92 Million Construction Loan Plus Opportunity Zone Funding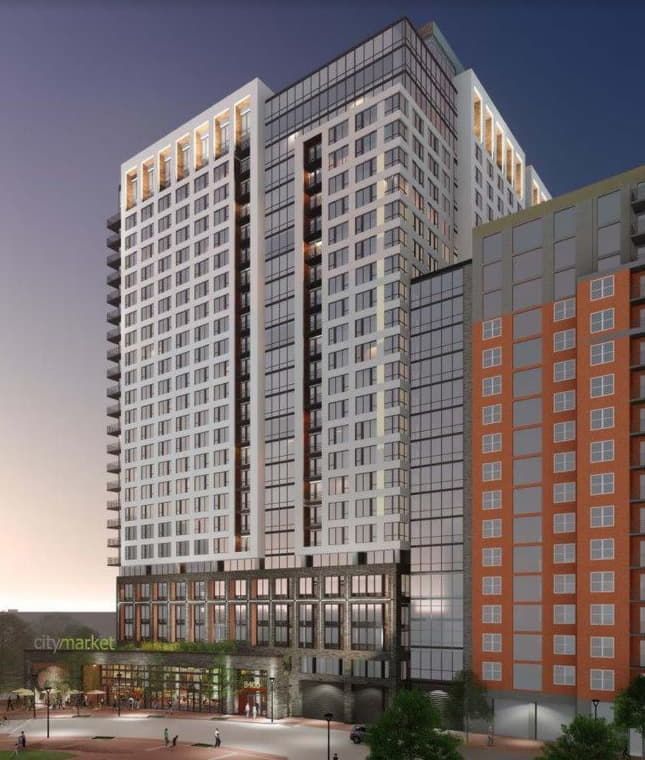 Washington Property Company (WPC) has broken ground for Solaire 8200 Dixon, a 403-unit, 26-story apartment tower in the heart of the Ripley District in downtown Silver Spring, MD. Clark Construction Company is on track to deliver the first apartments in mid-2022.
WPC has partnered with the Cresset-Diversified QOZ Fund to provide equity for the project. This fund is a joint venture between Cresset Partners and Diversified Real Estate Capital, both of Chicago, which earlier this year closed a $470 million fund to invest in real estate projects located in Qualified Opportunity Zones. Solaire 8200 Dixon is one of the seven projects included in the fund.
WPC also has closed a $92 million construction loan from New York City-based AXA Equitable Life Insurance Company. The total development cost is $163 million.
"We are excited to be partnering with WPC on the development of this project," said Nick Parrish, Managing Director of Cresset Partners. "Our fund targets institutional-quality development opportunities alongside top-tier developers around the country. We are pleased to be working with the team at WPC, which has a strong track record of delivering high-quality projects in the Washington, DC metro area."
"Kicking off construction at Solaire 8200 Dixon marks an important moment in the Ripley District's continuing evolution into an urban destination, further defining the neighborhood as an ideal place to live, work, and play," said WPC Vice President of Development Janel Kausner. "The new food hall/city market will bring a dynamic mix of unique eateries and entertainment to the community, while providing business opportunities for local entrepreneurs."
At 26 stories, Solaire 8200 Dixon will be Silver Spring's tallest building and will house the area's first food hall/city market, which will be open to the public. WPC has contracted with Colicchio Consulting of Cushman & Wakefield and to help plan, program, and set up the 15,000 square foot space, including selecting an operator and curating vendors. Philadelphia-based food hall architect Eimer Design is charged with creating a modern and engaging space.
Solaire 8200 Dixon, designed by the award-winning architecture firm Design Collective, will have 403 apartments and an enviable range of amenities including a rooftop fitness center, pool, and sky lounge, as well as a club room with co-working facilities, catering kitchen, 24-hour concierge and package service, pet spa, and two guest suites for residents' use. Most of the apartments (75 percent) will have one bedroom; the remainder will have two bedrooms. A five-minute walk will bring residents and visitors to the Paul S. Sarbanes multimodal transit station, with Metrorail, bus, commuter rail, and trail connections to downtown Washington and destinations throughout the metropolitan area.
WPC has worked closely with the County to lead the Ripley District's transformation from light industrial use to a vibrant transit-oriented neighborhood with an exciting new mix of dining, shopping, housing, employment, and entertainment options. The district will eventually be home to up to 3,000 people with over two million square feet of mixed-use development.
Solaire 8200 Dixon is located on the former site of Progress Place, which housed the nonprofit organization Shepherd's Table. Through a public-private partnership with Montgomery County, WPC developed a spacious new Progress Place building at 8106 Georgia Avenue, which now houses Shepherd's Table and two other nonprofits, Interfaith Works and Mobile Med. Together, these groups provide a wide range of services to homeless individuals including meals, a resource center, clothes closet, eye clinic, classes, vocational services, case management, and permanent supportive housing. Shepherd's Table welcomes donations at: https://www.shepherdstable.org/.
Solaire 8200 Dixon is WPC's fifth Solaire community, with a total of over 1,400 rental apartments, combining the finest amenities and high-end finishes with close proximity to Metrorail's Red Line. Solaire 1150 Ripley, located just across Ripley Street from Solaire 8200 Dixon, opened in 2012; Solaire Wheaton delivered in 2014; Solaire Bethesda delivered in late 2016; and Solaire 8250 Georgia Avenue, also in the Ripley District, opened in November of 2019.
Washington Property Company is a full-service commercial real estate company located in Bethesda, Maryland. Established by Charles K. Nulsen, III, WPC is involved in a full range of real estate investment services including acquisition, land use, development, property management, leasing, and construction management. WPC has developed more than eight million square feet of commercial space in the Washington, DC metropolitan area and currently has over 1.6 million residential square feet under development. WPC is actively pursuing office, multi-family, retail, and mixed-use development opportunities throughout the region. Through its management company, WPC Management, LLC, Washington Property Company manages over 1.8 million square feet of commercial