Five dividend-paying COVID-19-proof stocks to buy mainly feature recreational vehicle (RV) manufacturers and component suppliers, as well as a company known for its cushy chairs and sofas.
The five dividend-paying COVID-19 stocks to buy dropped in price on June 11 when the major U.S. stock indexes plunged about 6%, a day after Federal Reserve Chairman Jerome Powell warned that the labor market may need years to overcome the pandemic and that millions of newly unemployed Americans might not be rehired for their former jobs. The market drop also stemmed partly from the June 10 announcement by the Organization for Economic Co-operation and Development (OECD) that the COVID-19 pandemic has triggered the "most severe recession" in nearly a century, may include a second wave of illnesses and cause huge damage to people's "jobs and well-being."
The negative outlook accompanied data that showed 1.5 million Americans applied for unemployment benefits in the week through June 6, furthering a decline from a recent peak of almost 7 million applicants in the week through March 28. In addition, the May U.S. jobless rate fell to 13.3% with employers unexpectedly adding 2.5 million jobs to notch the biggest monthly gain in new jobs since the U.S. Bureau of Labor Statistics began tracking the data series in 1939. The labor market surprised analysts by rebounding from April, when 20.7 million jobs were slashed and the U.S. unemployment rate zoomed to 14.7% as many U.S. businesses closed amid the COVID-19 lockdown.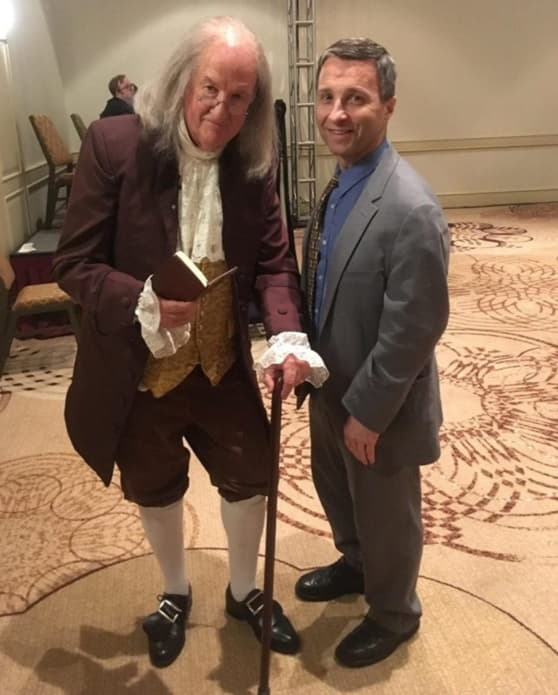 Mark Skousen, a descendant of Benjamin Franklin, meets with Paul Dykewicz in Philadelphia. Skousen teams up with stock picker Jim Woods for their Fast Money Alerttrading service.
Recession Fails to Stop Five Dividend-Paying COVID-19-Proof Stocks
The five dividend-paying COVID-19-proofs stocks to buy rose even though the National Bureau of Economic Research declared that the U.S. economy peaked in February 2020 to end a 128-month expansion that began in June 2009. The research bureau explained that Q4 2019 marked the high in quarterly activity as the COVID-19 crisis caused the lockdown of non-essential businesses throughout much of the world.
Before the opening bell on June 9, recreational vehicle (RV) maker Thor Industries (NYSE:THO), of Elkhart, Indiana, reported an unexpectedly strong fiscal third-quarter profit of 43 cents per share, even though its revenue fell 33% from the same quarter the prior year to $1.68 billion. But the results beat an expected loss of 40 cents per share, based on analysts' consensus forecasts, on predicted revenue of $1.42 billion.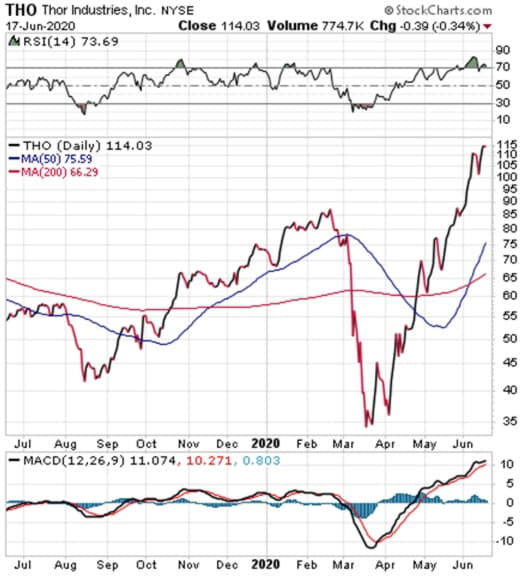 Chart courtesy of www.StockCharts.com
Thor Industries, recommended by the Fast Money Alert trading service led by Jim Woods and Mark Skousen, PhD, also has a strong backlog of orders that consists of $857.9 million for its North American towable products, $548.0 million for its North American motorized vehicles and $803.5 million for its European RVs. Bob Martin, chief executive officer of Thor Industries, issued a statement indicating every North American dealer he has spoken to in recent weeks expressed excitement about the sales pace of RVs.
Woods and Skousen recently opted to sell half of the September 2020 THO call options they recommended in Fast Money Alert for about a 200% profit, while boosting the stop price on the stock to preserve a double-digit-percentage gain.
Woods, who also leads the Successful Investing, Intelligence Report and Bullseye Stock Trader advisory services, said he uses relative price strength as a key screening tool when choosing stocks. That method of stock selection is a hallmark of his premium Bullseye Stock Trader service.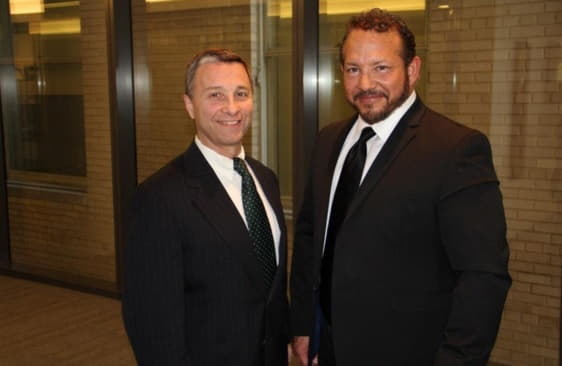 Paul Dykewicz meets with Jim Woods before COVID-19 to discuss new investment opportunities.
"For the transition back to greatness on the consumer side, I'm a huge fan of La-Z-Boy Inc. (NYSE:LZB)," said Hilary Kramer, host of a national radio program called "Millionaire Maker" and head of the Value Authority and GameChangers advisory services. The company offers great products and has developed an "incredibly loyal customer base," she added.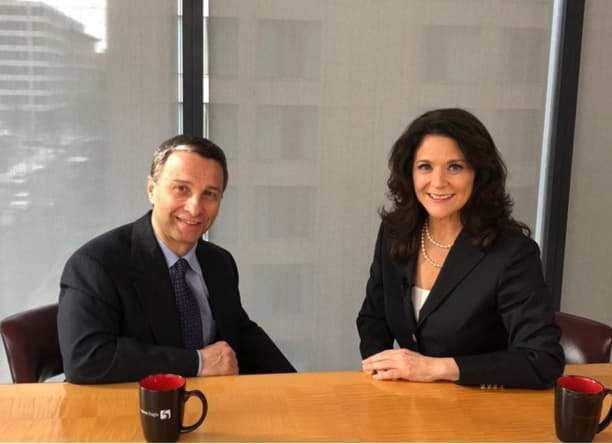 Paul Dykewicz interviews money manager Hilary Kramer, whose premium advisory services include 2-Day Trader, Turbo Trader,High Octane Trader and Inner Circle.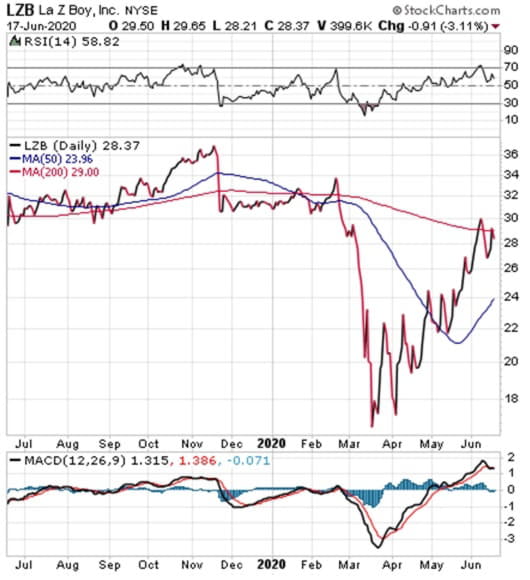 Chart courtesy of www.StockCharts.com
Pension Chair Touts One of Five Dividend-Paying COVID-19-Proof Stocks to Buy
Bob Carlson, chairman of the Board of Trustees of Virginia's Fairfax County Employees' Retirement System with more than $4 billion in assets, cautioned that recreational vehicle stocks have "appreciated quite a bit" since the market's bottom.
A "better bet at this point" is on the key component suppliers to all the RV companies: Patrick Industries (NASDAQ:PATK) and LCI Industries (NYSE:LCII), both of Elkhart, Indiana, said Carlson, who also leads the Retirement Watch advisory service. Both pay dividends, with Patrick Industries providing a current yield of 1.90%, while LCI Industries is offering 2.33%.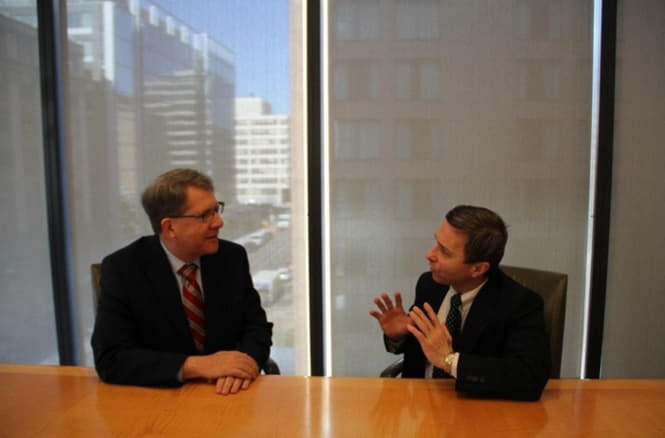 Pension fund chairman Bob Carlson answers questions from Paul Dykewicz during an interview before COVID-19 caused social distancing.
These five dividend-paying COVID-19-proof stocks to buy offer opportunities for investors who may wary about what the market will do next. The Wall Street adage of "sell in May and go away" would have caused followers of that advice to miss a huge month of gains for many equities in May, but these five dividend-paying COVID-19-proof stocks to buy are poised to do well this summer and beyond.
To read Paul's latest dividend investing columns, please click here.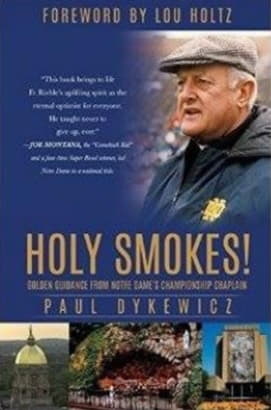 Dykewicz, www.pauldykewicz.com, is an accomplished, award-winning journalist who has written for Dow Jones, the Wall Street Journal, Investor's Business Daily, USA Today, the Journal of Commerce,Seeking Alpha, GuruFocus and other publications and websites. Paul is the editor of StockInvestor.com and DividendInvestor.com, a writer for both websites and a columnist. He further is the editorial director of Eagle Financial Publications in Washington, D.C., where he edits monthly investment newsletters, time-sensitive trading alerts, free e-letters and other investment reports. Paul previously served as business editor of Baltimore's Daily Record newspaper. Paul also is the author of an inspirational book, "Holy Smokes! Golden Guidance from Notre Dame's Championship Chaplain," with a foreword by former national championship-winning football coach Lou Holtz. The book is endorsed by Joe Montana, Joe Theismann, Ara Paseghian, "Rocket" Ismail, Reggie Brooks, Dick Vitale and many others. Follow Paul on Twitter@PaulDykewicz.