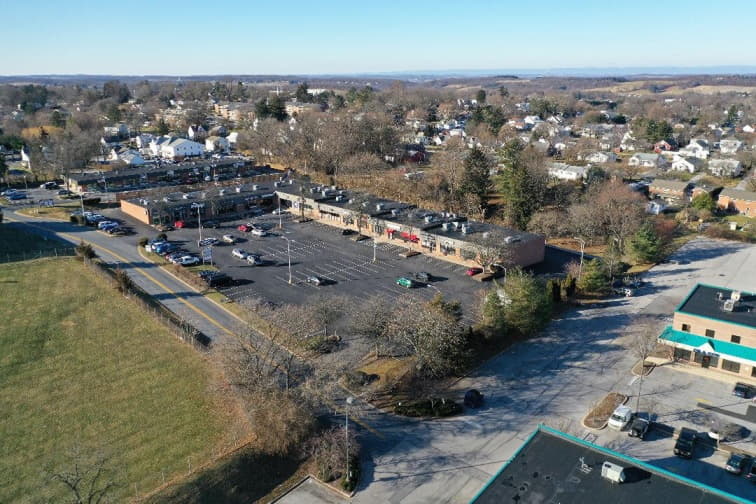 Edge, a full-service commercial real estate firm with offices in Washington D.C., Virginia, Maryland and Pennsylvania, has brokered the sale of Fairground Village Center, a 29,000 square foot neighborhood retail center located in the Westminster section of Carroll County, Maryland for $4.5 million. The asset, which is located adjacent to MD Route 140, was 95% leased and occupied at the time of the transaction. Edge's Capital Markets team, led by Joe Friedman, Partner and Crissy Kleine, Senior Director, represented the seller, Oxford Realty Advisors and procured the buyer, Kohler Development Corporation, a 1031 Exchange private investor based in Carroll County.
Fronting 140 Village Road, Fairground Village Center is presently leased to several locally-based retailers including an Italian and American grill restaurant, medical cannabis dispensary, bakery, hair salon and florist. The center is located adjacent to MD Route 97, less than one mile from Maryland Route 140 and two miles from the main downtown shopping district in Westminster. The median household income in the greater Westminster region is nearly $80,000 and the median home value is more than $315,000.
"Westminster is an extremely stable submarket with growing demographics, and the new buyer acquired an excellently-maintained retail asset that will build value over the long-term," explained Joe Friedman, Partner of Capital Markets at Edge. "This sales transaction was challenging based on the strong retail headwinds caused by the pandemic, but the existing retailers showed tremendous resiliency and entrepreneurial spirit to weather the storm for several months. We were able to successfully conclude this sale in large part due to the patience of the buyer and the seller to consummate a deal, he added."
Nearly 50,000 people, including nearly 20,000 households, reside within a five-mile radius of Fairground Village Center. The center is less than 20 miles from Baltimore, 23 miles from Gettysburg, Pennsylvania and 35 miles from York, Pennsylvania.
"This asset was an ideal 1031 exchange property for the purchaser based on its long-term history of high occupancy, steady cash flow and a loyal tenant base comprised of local retailers," Friedman added. "With 1,500 square foot typical shopsizes, individual metering and a high parking ratio exceeding 5.00 per 1,000, Fairground Village Center is perfectly suited for small retail businesses."
This represents the fifth 1031 investment sale transaction completed by the Edge Capital Markets platform within the past 120 days with a cumulative volume approaching $30 million. Earlier sales were completed for a 93,000 square foot commercial office building in Rockville, Maryland; a 37,000 square foot flex/warehouse building in Lanham, Maryland; a 30,700 square foot warehouse/retail building in Silver Spring, Maryland and a six-building, 22,400 square foot medical office portfolio in Fredericksburg, Virginia.
Edge is a commercial real estate firm providing a full complement of advisory, leasing, investment sales, management, construction, property management and engineering services to clients throughout the Washington, D.C., Maryland, Northern Virginia, and Pennsylvania marketplaces. Founded in 2007, the company currently leases and manages more than 8.5 million square feet of commercial office, flex/office, industrial/warehouse, retail and mixed-use space. Visit www.edgecre.com.