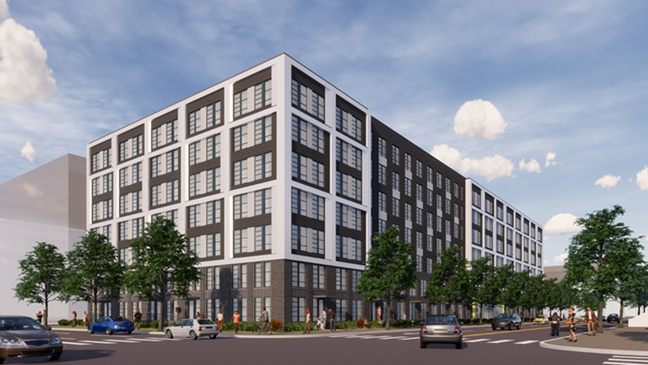 MRP Realty, developers of commercial, residential, industrial, and mixed-use real estate across the Washington metropolitan region, CSG Urban Partners, Taylor Adams Associates, with SK+I Architecture and in partnership with the Deputy Mayor's Office for Planning and Economic Development (DMPED), together today celebrated breaking ground on Northwest One.
After closing $47M of financing on the development cost of $80.6M, construction on the first phase of Northwest One is now underway. The residential project, the former Temple Courts building acquired by DMPED in 2008, is located on North Capitol Street at K Street in Northwest DC. The Deputy Mayor for Planning and Economic Development, the DC Housing Finance Agency (DCHFA), the Department of Housing and Community Development and the District of Columbia Housing Authority all contributed to the funding for the multi-vehicle financing.
"Northwest One represents two major commitments we made to residents: investing more in affordable housing and fulfilling the goals of the New Communities Initiative," said Mayor Bowser. "This was a community-led effort that helped move this project forward as we finally approach the finish line. We look forward to when the construction is done and when we can cut a ribbon and welcome former Temple Courts and Golden Rule residents back to the neighborhood."
Northwest One is a three-phase project that will transform the former Temple Courts building into high-quality, mixed-use, mixed-income residences, services, and retail within a dynamic, active environment and public realm that enhances the unique culture and character of the surrounding community. The developers will replace each unit throughout the three phases and are starting with 65 replacement units in phase one. The three-phase development is part of DMPED's New Communities Initiative and will feature a large retail component that will include neighborhood-serving ground-floor retail and community services, including potential uses such as daycare and afterschool programs.
"We are thrilled to now begin construction on the new home for the residents of Temple Courts," said Bob Murphy, MRP's Managing Principal. "We want to thank the Mayor and her team for giving us the opportunity to deliver this important project. We could not have completed this transaction without the strong input and support of the former Temple Courts residents and WIN who were actively engaged throughout the entire process, as well as the active support of Councilmember Charles Allen, Councilmember Kenyan McDuffie, and the rest of the City Council."
Phase one of the development will deliver 220 total units, including 150 affordable units, 77 of which will be for residents earning at or below 30% of AMI, and 73 units for those earning at or below 60% of AMI. The final 70 units will be market rate. Further, 56 of the total units in phase one will be 3- or 4-bedroom family-sized residences. The project will also include a large courtyard, grilling stations, clubroom, fitness center, and children's playroom. The architect is SK&I Architecture.
"The next exciting step is to begin the job training program our team is sponsoring, which will teach construction skills to those seeking to work in the apprenticeship programs on our project, as well as other projects in the District," says Murphy.
Along with the MRP, CSG, and Taylor Adams development team -- and working with DOES -- McCullough Construction will begin the first of six ABC CORE Construction Training Classes in The John and Jill Ker Conway Residence located near the NoMa-Gallaudet U subway station. CORE is a prerequisite for all trade/apprenticeship classes and is designed to provide students with the basic knowledge and skills required in the construction trades.
The project in total will include approximately 740 residential units, including 518 affordable units, 22 permanent supportive housing units; and 211 of the total affordable units will be reserved for the former residents of Temple Courts.
About MRP Realty
Founded in 2005, MRP is a real estate operating company focused on opportunistic and value-add investment in the Washington, DC, Washington, D.C., Maryland, Virginia, Pennsylvania, New York City, and Nashville. Since the firm's inception, MRP has been among the most active local investors in office, multifamily and land investment, deploying $4.9 billion (total capitalization) in the Washington, DC, Maryland, Virginia, Philadelphia, New York, and Nashville markets – an average of over $303 million per year. MRP has a current interest in 14.5 million square feet of existing or under construction properties with land interests totaling over 10.2 million square feet. MRP was rated 2nd most active developer in the Washington, DC, metropolitan area in 2019 according to the Washington Business Journal and has consistently been ranked in the top 10 since 2014.
MRP provides to its institutional capital partners a full array of real estate services including acquisition/disposition, development/construction management, property management and asset management services, and financial reporting services. MRP focuses on strategic investment opportunities in both high barrier-to-entry submarkets and high growth submarkets.