Five-story, 125,000 square foot building contained within The Collective at Canton, receives leasing commitment from Celebree Schools to open first childcare and education center in City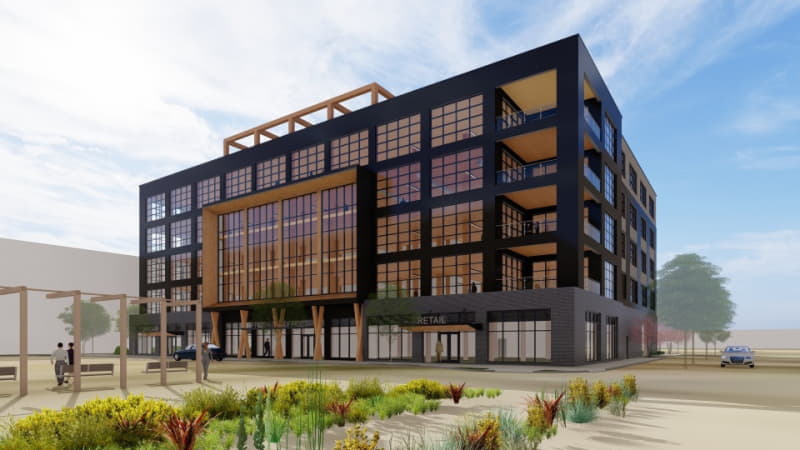 28 Walker Development has revealed plans for the first commercial office building in downtown Baltimore City constructed entirely using heavy wood timber materials. Contained within the company's mixed-use Collective at Canton, the five-story building at 4010 Boston Street will contain approximately 125,000 feet of Class "A" commercial office space upon its delivery in early 2022. Celebree School has signed a lease with 28 Walker Development as the inaugural tenant at the building also known as 40TEN, with the childhood education and care center occupying 10,275 square feet of indoor space, as well as utilizing a 6,000 square foot outside playground area. NAI KLNB is handling all marketing and leasing for the building, with Joe Nolan, Principal, overseeing the assignment.
The decision to speculatively construct commercial office space at the Collective at Canton is based, in part, to the company's leasing success at McHenry Row which contains 400,000 square foot of office space and is currently more than 99% leased. Both projects are mixed-used communities that include multifamily homes, national grocers, restaurants and retail amenities, offer free garage and surface parking and are directly adjacent to I-95. Both mixed use developments are located in areas that are surrounded with strong youthful workforces, making it easy for employees to walk or ride bikes to their offices.
28 Walker chose to utilize heavy timber based on the material's positive energy efficiency attributes, creating an organically warm exterior and interior design with flooring, columns and exposed ceilings all comprised of natural wood. 40TEN will also feature a communal rooftop amenity deck free to all tenants. Half of the deck will be under roof to include conference facilities and kitchen space, while the other half will be outdoors offering space to eat and relax while enjoying the panoramic views of the downtown skyline and Canton waterfront.
Celebree School, which presently operates more than 50 early childhood education and care centers throughout Maryland, Delaware, Virginia and Pennsylvania intends to open is first facility within Baltimore City, with the local franchise owned by Jason Skidmore. Celebree School offers curriculum programs aligned with the Maryland State Department of Education's focus on Early Childhood Education and incorporates STEAM (science, technology, engineering, arts and mathematics) into every daily lesson.
"Throughout the design and execution of the Canton Master Plan, we have consistently introduced elements that represented firsts for Baltimore City including attracting retailers such as Target, Sprouts Farmers Market and Mission BBQ, and this heavy timber building represents the latest evolution of this program," stated Mark Sapperstein of 28 Walker Development. "The aesthetic appeal of wood and projection of warmth and beauty cannot be replicated with steel and its use harkens the iconic interior images of buildings that were constructed during our city's infancy.
"The interior design of 40TEN itself reflects a post-pandemic world that meets the evolving needs of companies and employees, with an emphasis on healthy indoor environments and the efficient use of flexible workspaces. Now, more than ever, buildings, creative layouts and employee amenities play an integral role in attracting and retaining talent. We had this in mind when designing 40TEN and believe its one-of-a-kind ambiance and health features will be a corporate advantage that businesses can leverage," he added.
40TEN features 14-foot ceiling heights and enlarged windows to maximize the amount of natural light entering the building. The building will be highly-amenitized to meet the demands of modern office tenants including touchless entry systems, antimicrobial finishes and specialty HVAC systems engineered to improve air quality and stimulate outdoor air flow. The building will also feature a common lounge/coworking area, conference facilities and a state-of-the-art fitness center. Free parking will be available to all tenants.
Celebree School choses inaugural Baltimore City location
Celebree School franchise owner Jason Skidmore, together with his wife Terry, own and operate Hart to Heart Transportation, a 350-employee company that has provided emergency and non-emergency transportation services throughout Maryland and Delaware since 1996. The couple are planning to open their first Celebree School location near BWI Airport this summer.
The concept also offers infant childcare programs suitable for children ranging from six weeks to eighteen months of age and are designed for personal, social, language and physical development. All locations, which also offer summer camp programs, are locally-owned and staffed by degreed teachers.
Skidmore's parents owned and operated assisted living facilities in Harford County, and he regularly worked in the family business while growing up. This exposure to entrepreneurship and experience operating within a business environment that positively impacted the community inspired him to co-found Hart to Heart Transportation.
"Celebree School has had their eyes on a Baltimore City location for quite some time and, in 40TEN, we have found a truly innovative building in a strategic section of downtown that will allow us to serve a rapidly-growing audience," explained Jason Skidmore. "When Celebree offered me this franchise, I immediately jumped at the opportunity, and we are particularly thrilled about the large outdoor playground area. We look forward to providing valuable services that serve the emerging needs of children and families."
Late last year, 28 Walker announced Elan Brewers Hill, a multifamily development consisting of 500 high-quality residential units that will be developed by Greystar Real Estate Partners at Collective at Canton. The 12-acre site is anchored by a Sprouts Farmers Market andincludes 60,000 square feet of complementary retail space.
"40TEN is already receiving significant interest from both companies looking to relocate their offices and from commercial real estate professionals," stated Joe Nolan of NAI KLNB. "The natural wood timber construction and heavy amounts of glass will make this building the coolest and hippest place to work in Baltimore. Live, Work and Play is the buzzword for urban real estate projects, but 40TEN truly characterizes the LWP environment more than any other project. In addition, Canton is a very safe place to work and the immediate access to I-95 and I-695 will bring executives and their employees from surrounding suburbs."
28 Walker Development is a Baltimore-based fully-integrated real estate company with a focus on smart urban infill development projects. The firm utilizes Smart Growth development principles to transform under-utilized sites into community-centric centers of economic growth and activity. 28 Walker is recognized for its transformational redevelopment of former industrial sites into thriving mixed-use destinations including McHenry Row and The Shops at Canton Crossing. For additional information, visit www.28walker.com.