Summary
Discovery returned more than 80% in less than three months on the back of Discovery+ stellar performance.
Apart from top-line growth, the streaming service solidifies the company's existing competitive advantages in a number of ways.
Although short-term performance is likely to be challenged, the long-term investment thesis remains intact.

Source: Discovery Investor Presentation
Discovery (DISCA) has been on a tear since I first wrote about the stock and took a long position back in December of last year. If you haven't read my previous article yet, I would strongly recommend you do so as in it I lay out some key points about my long-term investment thesis in the company.
In the following lines, I will focus more on business performance, following the Q4 2020 earnings and disclosures around Discovery+. I will also explore some implications for the company's valuation after it almost doubled over the course of less than three months.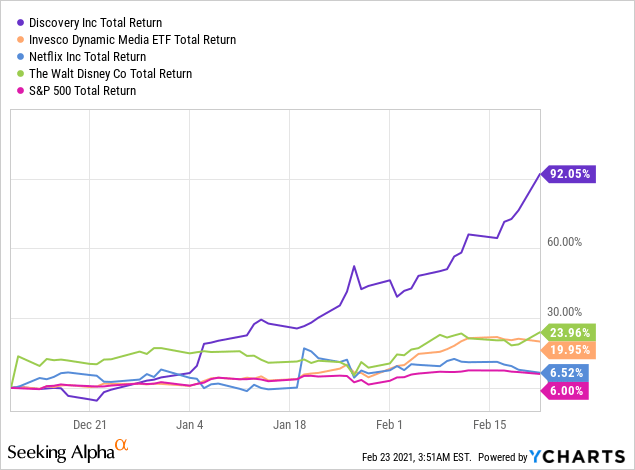 A better-than-expected launch
The main reason for this spectacular performance has been the launch of Discovery+ streaming service. Back in December, when management announced the launch of Discovery+, DTC subscribers stood at 5.2 million.

Source: Discovery+ Investor Briefing Presentation
On the last earnings conference call, however, CEO David Zaslav announced that the company now has over 11 million paying direct-to-consumer subscribers and expects to hit 12 million by the end of February this year.
Needless to say that these are impressive numbers for just a few months of operations, while the streaming service is just getting started with its international expansion. Thus revenue growth in this next-generation revenue segment has been significant and will most likely accelerate further over the recent months.