DC-area based establishments will offer exciting new dining options for Wards 7 & 8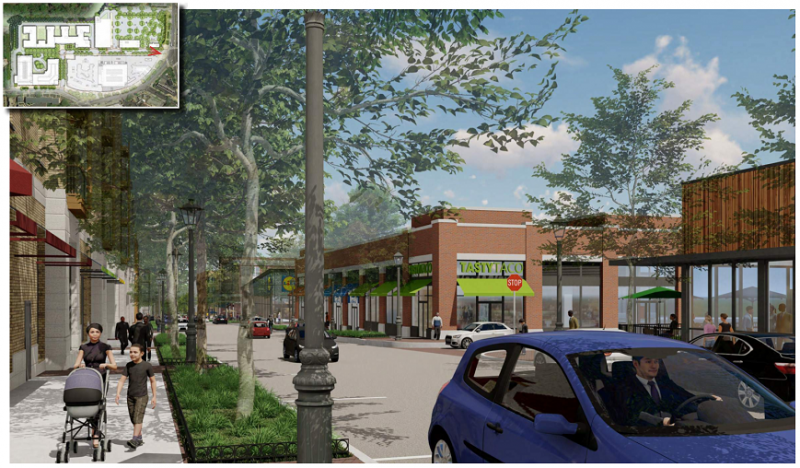 Rappaport and WC Smith announced today the signing of five new restaurant leases for Skyland Town Center.
The establishments – most of them based in the Washington, DC area – will bring new and diverse dining options to the neighborhoods surrounding the 18.5-acre, mixed-use development in the city's Ward 7.
DC Mayor Muriel Bowser highlighted the signing of these leases during "March Madness," the Office of the Deputy Mayor for Planning and Economic Development's annual economic development showcase and pre-solicitation event.
"I know it's taking time, but what we're seeing at Skyland is a development that matches the vision of the Ward 7 community – a site with new housing, a grocery store, good amenities, and jobs and opportunity for DC residents," said Mayor Muriel Bowser. "I'm grateful for everyone who is playing a role in moving Skyland forward – the Ward 7 community, our business partners and community builders, and, of course, our DMPED team. I look forward to the continued groundbreakings, and I look forward to all the ribbon cuttings even more."
Coming to Skyland Town Center are:
Roaming Rooster – Skyland will be this popular fried chicken sandwich eatery's fourth location in Washington. This Black-owned business started in 2015 as a food truck operating in the District; the family parlayed its loyal following into a brick-and-mortar operation in 2018, since then opening DC locations in Tenleytown, U Street, and Woodridge.
&pizza – Skyland will be the 10th site in Washington for this pizzeria, which first opened on H Street NE in 2012 and now has 25 locations across the DMV
Mezeh – This Mediterranean-influenced eatery will openits second location in DC at Skyland. Founders Saleh Mohamadi, Steve Walker, and Tai Chiaoopened their first Mezeh in 2013 in Annapolis; the business now has 24 locations.
Maizal – Skyland will be the first stand-alone and sit-down location in DC for this South American street food concept. The restaurant, founded in 2018 by Dario Arana-Rojas, started as a counter-service eatery in the L'Enfant Plaza food court.
Tropical Smoothie –will be the third DC location of the national fast-casual, healthy lifestyle café concept that boasts 850 locations in 44 states.
The restaurants are expected to open in late spring and early summer of 2022.
These exciting new food establishments will join CVS, Skyland Nails and Spa, and Like That Barber, a neighborhood "institution" that has been serving families in Wards 7 and 8 for 30 years. Opening later this year at Skyland is Chase Bank; Lidl and Starbucks will open in 2022.
Additional retailers and restaurants will be named in the coming months.
This spring, The Crest at Skyland Town Center, a 263-unit residential property will begin leasing and welcoming residents.
"In leading the retail leasing, we constantly focus on the tenant mix so that we have a development that balances both national retailers and local retailers who live within the community, said Henry Fonvielle, President, Rappaport. We are pleased to welcome local operators with global food flavors to Skyland Town Center that will enhance the retail and dining experience for the neighborhood".
"For too long Wards 7 &8 were overlooked when restauranteurs looked to open new locations. But that has started to change, and we're excited that, with the signing of these new businesses at Skyland Town Center, these neighborhoods are beginning to move from food deserts to food destinations," said WC Smith Chairman and CEO Chris Smith. ""We thank the new restaurants coming to Skyland for being forward-thinking."
About WC Smith
WC Smith (www.wcsmith.com) is a Washington, DC-based multidisciplinary real estate firm, providing integrated real estate services to the Washington metropolitan area since 1968. Recognized and respected as one of the largest, most capable property management firms in Washington, WC Smith is one of a very few organizations whose portfolio spans market-rate and affordable multifamily rental and common ownership communities to commercial and office properties. WC Smith's development experience spans the full spectrum from acquiring, renovating and repositioning multi-family communities, to repurposing obsolete facilities, to constructing new office buildings and large-scale multifamily and mixed-use properties. The development, commercial brokerage, and finance divisions have completed close to $2 billion of real estate and developed more than 7,000 units of multi-family housing in the District of Columbia area. The property management division maintains more than 10,000 residential units as well as office and commercial properties.
About Skyland Town Center
Rappaport and WC Smith, who lead the retail and residential leasing and strategy respectively, partnered with the Government of the District of Columbia as well as other entities such as the Washington East Foundation, Marshall Heights Community Development Organization, and Skyland DC to redevelop Skyland Town Center over the last 15 years. Located at the intersection of Alabama Avenue, Naylor Road and Good Hope Road SE, Skyland Town Center's first phase of 84,500 square feet of retail also includes CVS Pharmacy, and Crest at Skyland Town Center, a 263-unit building set to deliver in early 2021. Upon completion, Skyland Town Center will have up to 156,000 square feet of retail, a medical office building and 450 to 500 residential apartments in a vibrant town square setting. Deemed the largest retail development in Southeast Washington, D.C., Skyland Town Center will provide services and amenities to an underserved market east of the Anacostia River.
About Rappaport
Founded in 1984 by Gary Rappaport, Rappaport is an owner, developer and provider of leasing, tenant representation, property management, marketing, and development services. The firm's multiple service lines and broad diversity of clients ensure an enhanced perspective on the entire retail real estate process, making the company one of the most well-known and well-respected retail real estate firms in the Washington, DC region.
Rappaport has the ability to successfully adapt to the ever-changing, fast-moving, innovative, and entrepreneurial retail industry. As a trusted advisor with the right connections, unique experience, and in-depth market awareness, Rappaport has mastered the art of cultivating places. For more information, visit www.rappaportco.com