World's Leading Flexible Workplace Company Brings to Life the 15-Minute City Concept in Washington, DC and Brighton, UK as Hybrid Workers Expect Shorter Commutes and Better Work-Life Balance
IWG PLC., the world's largest flexible workspace company, has brought to life the long-awaited 15-Minute City in regions across the United States and globally, starting with Franklin Square in Washington, D.C. and Brighton in the U.K. The 15-Minute City is defined as an ideal geography where most human needs and experiences are located within 15 minutes via public transit, walking, biking or driving.
What has long been a topic of discussion by urban planners and futurists around the world is now becoming a reality following the growth in popularity of hybrid working. With the accelerated adoption of hybrid working, IWG continues to pave the way for the future of work by offering flexible workspaces that align with the 15-Minute City, helping make better work/life balance and shorter commutes a reality for workers. In fact, Harvard Business Review found that since the pandemic began, workers across the U.S. reported an overall decrease in commute time of 41 minutes and a 37-minute increase in personal activities, especially in the morning. The 15-Minute City places flexible workspace at the center point of a person's day with retail and other services no more than 15 minutes away. The emerging trend for flexible workspaces outside traditional city centers will not only change working life but also how communities are experienced around the world.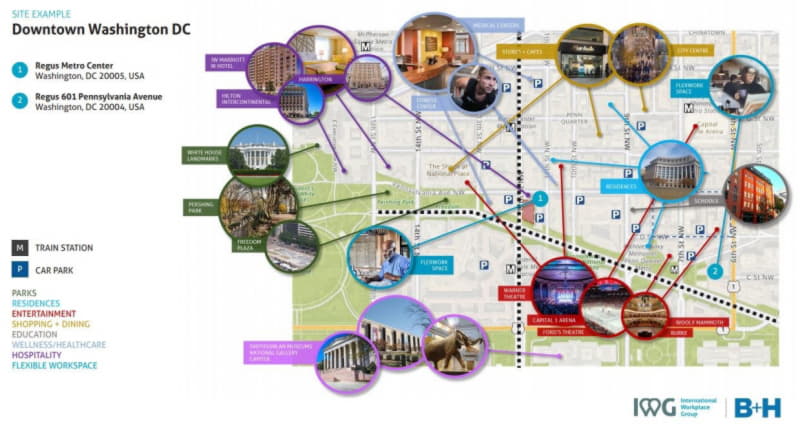 "The pandemic has proven the ability of global workforces to work effectively in different ways and in different places. Our research shows that hybrid working will continue to be very popular with employees and businesses," said IWG CEO and Founder Mark Dixon. "Employees have realized that hours have been wasted commuting to an office they don't need to be in, whilst businesses have seen that a hybrid model not only means happier and more engaged employees, but also significant cost savings. This shift also has the potential to transform local economies. In 2019, we forecast that over the next 10 years local economies would be set to benefit from nearly $17 billion as a result of the growth in hybrid work patterns. The pandemic has not only accelerated this trend but likely increased that figure."
The 15-Minute City concept will be at the heart of urban planning in the years to come. IWG partnered with leading firm B+H Architects to illustrate an example of the 15-Minute City by applying it to an urban location (Franklin Square in Washington, D.C.) and a suburban location (Brighton, United Kingdom), visualizing how the 15-Minute City is evolving and the amenities required to ensure those living in these areas have everything they need within that radius across workspace, healthcare and leisure activities. Additionally, the concept demonstrates the positive impact it will have on workers from all types of industries and what their working day may look like. IWG and B+H also created two personas to describe what a day in the life of 15-Minute City could look like for different types of workers: Nomad Creative Workers and C-Suite Executives.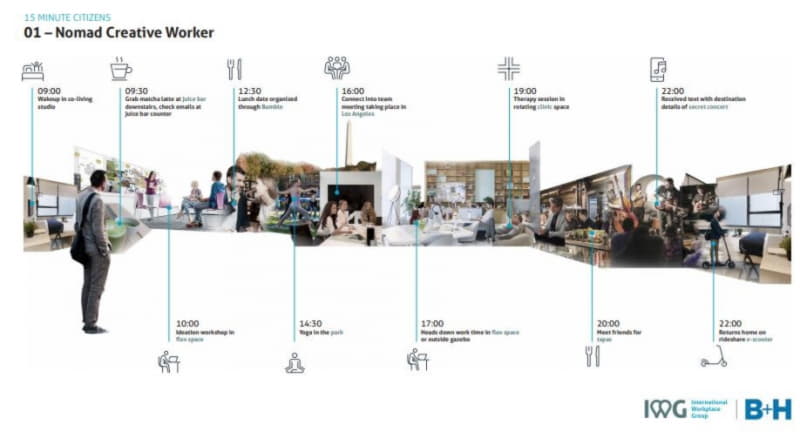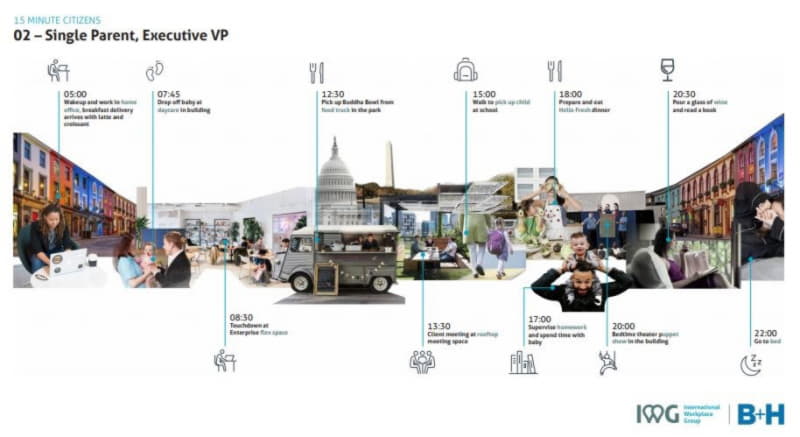 Research shows three times the number of large companies are looking to use a hybrid office model, compared to pre-pandemic. According to Gartner, 80 percent of companies plan to allow employees to work remotely at least part of the time. In a PwC survey of CEOs, 78 percent agreed remote collaboration is here to stay for the long-term. IWG has seen a significant increase in interest in local and regional offices in the last 12 months across multiple markets, with the demand for IWG office space in suburban areas rising by 32 percent in Q1 2021.
"The 15-Minute Commute is becoming a reality across the world and the key components are very similar wherever you are, as can be seen in our visualisations in Washington and Brighton," said Doug Demers of Managing Principal at B&H. "People want access to amenities and services that you naturally need during a working day, but other things are becoming increasingly important such as green spaces, places to collaborate or hubs to meet and work with colleagues locally."
IWG provides flexible workspace in convenient locations using industry leading technology, enabling teams to collaborate better and more seamlessly. IWG also offers shorter lease commitments, thereby allowing for greater flexibility.
About IWG
IWG is leading the workspace revolution. Our companies help more than 2.5 million people and their businesses to work more productively. We do so by providing a choice of professional, inspiring and collaborative workspaces, communities and services. Digitalization and new technologies are transforming the world of work. People want the personal productivity benefits of living and working how and where they want. Businesses want the financial and strategic benefits. Our customers are start-ups, small and medium-sized enterprises, and large multinationals. With unique business goals, people and aspirations. They want workspaces and communities to match their needs. They want choice. Through our companies we provide that choice, and serve the whole world of work: Regus, Spaces, No18, Basepoint, Open Office and Signature. We create personal, financial and strategic value for businesses of every size. From some of the most exciting companies and well-known organizations on the planet, to individuals and the next generation of industry leaders. All of them harness the power of flexible working to increase their productivity, efficiency, agility and market proximity. Join us at iwgplc.com.