Company engaged in delivering facilities, engineering and compliance solutions to biosciences sector, recognizes opportunity to invest in industry-specific asset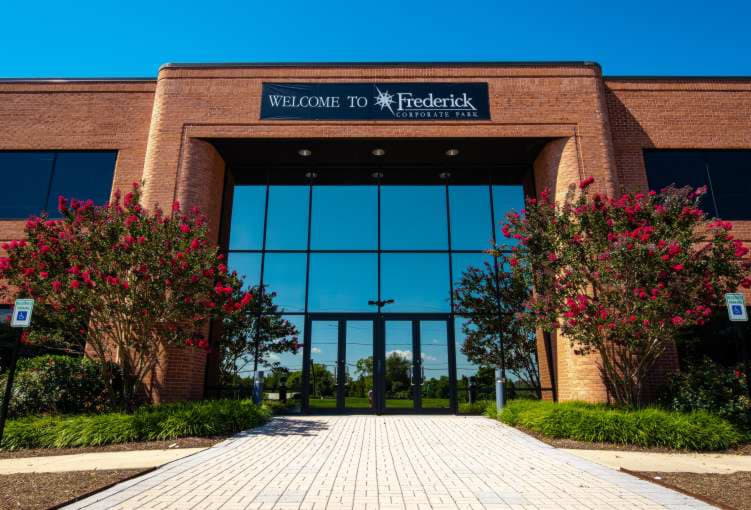 VaLogic LLC, a company engaged in delivering facilities, engineering and compliance solutions to companies operating within the life sciences and biosciences sector, has acquired 7495 New Horizon Way, a 75,400 square foot commercial office building in Frederick, Maryland for $7.7 million. The company subsequently secured a $2.4 million commercial property-assessed clean energy (CPACE) loan sourced by MD Energy Advisors with the intent to retrofit the two-story structure into a facility to support the customized real estate needs of companies operating in these industries. The 100% vacant building was formerly owned by Bethesda, Maryland-based Finmarc Management, Inc. This is the largest CPACE loan ever completed in Frederick, Maryland.
VaLogic plans to immediately initiate an ambitious construction strategy to transform 7495 New Horizon Way, which was constructed in 1992 and sits on approximately five acres of land adjacent to MD Route 355 (Urbana Pike), into a Good Manufacturing Practice (GMP)-compliant asset that could house multiple companies involved in the life sciences industry. Planned upgrades include a comprehensive renovation of the building's HVAC systems featuring dedicated outdoor air system (DOAS) units and upgrading the electrical and plumbing systems to serve the unique needs of the life sciences sector. The completion of interior renovations will enable end-users to construct laboratory space, cleanrooms, testing areas, wet labs and office space with specific temperature, humidity and air circulation and purification controls.
"Based on our experience serving the biotech sector with guidance on designing and operating industry-specific buildings, we see a tremendous amount of opportunity and interest among companies for this niche real estate product, which has only been heightened during the ongoing health crisis," explained Bill Robertson, Founder and President of VaLogic. "This endeavor leverages our expertise in providing the infrastructure companies need to thrive in the life sciences and biosciences sectors, combined with the tremendous growth that is occurring both nationally and locally. The building is contained at the northern tip of the greater Washington, D.C.-Baltimore region that contains the fourth-largest concentration of life sciences companies."
CPACE is a financing mechanism that can be used to finance energy and water-related improvements of a real estate project. New construction and gut rehabs are strong applications for the product and CPACE will reduce the weighted average cost of capital for building owners when compared to preferred equity and or mezzanine financing. CPACE is fixed rate, long term, non-dilutive and non-recourse with rates routinely under 6% on a 20 to 25-year term and amortization.
"Upon the advice of our legal team, we pursued the CPACE financing as a mechanism to access a significantly lower cost of capital to fund these building renovations focusing on energy and mechanical systems," added Robertson. "Because our plans call for stripping the asset down to a skeleton of only masonry block and rebuilding the structure nearly entirely, the CPACE loan provides a solid runway of funding while we work towards establishing a consistent revenue stream."
VaLogic has selected Scheer Partners, a commercial real estate brokerage firm located in Rockville, to oversee marketing and leasing activities for 7495 New Horizon Way. The company will consider relocating its corporate headquarters to this new site, but believes there exists strong pent-up demand among the life sciences industry for best-in-class laboratory and office space to rapidly bring the 75.400 square foot building to 100% occupancy.
"A CPACE loan provides the perfect combination of below-rate financing and the injection of immediate equity to fuel VALogic's vision to create long-term value in this building and fill an identified need in the life sciences industry," stated Jason Schwartzberg, President of MD Energy Advisors. "The company brings an extremely high level of expertise to this project and are uniquely qualified to execute this repurposing strategy backed by their collective experience and understanding of the life sciences marketplace. The plan is thoughtful and based on extensive research."
Growth prospects of life sciences industry in greater Frederick region
Time Magazine attached the "DNA Alley" moniker to the region surrounding the Interstate 270 Corridor extending from the suburbs of Washington, D.C. including North Bethesda and into Frederick, which is also known as the bedroom community serving the Nation's Capital. Several hundred bioscience companies currently exist in the region, with many servicing the needs of the National Institutes of Health, the University of Maryland at College Park and Johns Hopkins University.
Frederick County remains a price-conscious alternative to the I-270 Corridor and presents additional development opportunities for research and development and GMP space uses with rental prices nearing $40 per square foot. In the past two years, life sciences tenants have leased more than 870,000 square feet of space which represents nearly a quarter of all activity in suburban Maryland.
"Montgomery County receives a considerable amount of glory for its stature as an incubator and home of the life sciences industry, but Frederick County is nipping at its heels and closing fast. The work of the Frederick County Office of Economic Development deserves a lot of credit for this activity," Robertson said.
The City of Frederick is home to approximately 80 bioscience companies and are continually attracted by the highly-skilled workforce, lower cost of living, mature transportation network and proximity to Fort Detrick.
"This was our first introduction to the CPACE loan concept and MD Energy Advisors was the perfect partner to patiently walk us through the process and explain its details in real time," Robertson added. "We first thought this funding mechanism was too good to be true, but it has been a significant game-changer in our ability to execute our redevelopment plan."
This is the largest CPACE loan ever closed in the Frederick area, according to Jessa Coleman, Manager of the MD-PACE program.
"VaLogic is an amazing team and Frederick County is here to support them in any way possible to assure their long-term success," stated Solash Aviles, Senior Business Development Manager for the Frederick County Office of Economic Development. "The bioscience sector is growing exponentially here and we field new requests from potential businesses looking to move to Frederick County on a weekly basis. This building will provide the ideal environment for small to medium-sized companies to grow and prosper and it certainly fills an important need in our business community."
Headquartered in Baltimore, MD Energy Advisors is a customer-centric energy management, marketing, and efficiency firm providing energy solutions to utilities, private companies and residential clients. The company identifies opportunities to reduce energy-related operating expenses, offers strategies that improve environmental impact and provides financial vehicles to help implement these strategies.
For additional information about MD Energy Advisors, visit www.MDEnergyAdvisors.com