JLL Capital Markets recapitalizes the Midtown Center office property owned by Carr Properties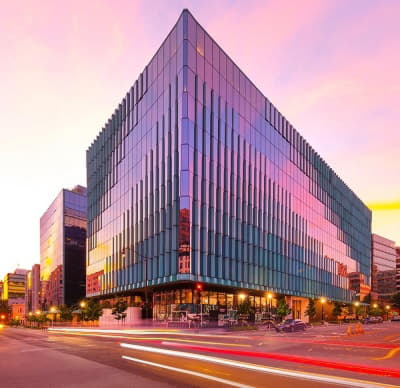 JLL Capital Markets announced today that it has arranged the recapitalization of Midtown Center, a 868,834-square-foot, trophy office property in the heart of Washington, D.C. Midtown Center is the headquarters location for Fannie Mae.
JLL worked on behalf of the developer and owner, Carr Properties, to source equity through a consortium of Korean investors led by IGIS Asset Management. The Korean consortium will own a minority interest in the REIT that owns the property.
Midtown Center has a prominent location at 1100 15th St. NW in the heart of Washington, D.C.'s central business district. Boasting a Walk Score® of 98, the property is just three blocks from the White House and is surrounded by more than 3,500 hotel rooms, numerous cultural attractions and high-end restaurants and retail offerings. Additionally, Midtown Center offers tenants access to multiple transportation nodes for regional and national connectivity, including Reagan National Airport, Union Station, Metro access and bikes lines on L, M and 15th St.
Recently completed in 2018, Midtown Center is a LEED Gold-certified, trophy office property comprising two 14-story towers that are interconnected through three skybridges. The property was built with today's tenants in mind, offering flexible floorplates, sustainable design and state-of-the-art building systems. In addition, Midtown Center offers best-in-class tenant amenities, including an 8,000-square-foot, spa-like fitness center; a 5,000-square-foot rooftop terrace; 1,000 square feet of shared rooftop conference space, a 1,300-square-foot bike room; a landscaped, European-style public plaza and ground floor retail, including Shoto Akedo, Philotimo, Dauphines, Grazie Grazie and Blue Bottle Coffee. Midtown Center is fully leased to two tenants and serves as Fannie Mae's new Washington, D.C. headquarters.
JLL's Capital Markets team representing Carr Properties was led by Senior Managing Directors Jim Meisel and Andrew Weir, Managing Director Matt Nicholson and Director Dave Baker. Executive Managing Director Riaz Cassum and Managing Director Miyeon Lee were also involved from JLL's International Capital team.
"JLL is quite pleased to be able to source a long-term partner for Carr Properties in the midst of the pandemic," Meisel said. "The iconic nature of the asset and the stellar tenancy was very appealing to investors and we believe the transaction provides a great boost to the investment sales market in Washington, D.C. overall."
JLL Capital Markets is a full-service global provider of capital solutions for real estate investors and occupiers. The firm's in-depth local market and global investor knowledge delivers the best-in-class solutions for clients — whether investment sales advisory, debt placement, equity placement or a recapitalization. The firm has more than 3,700 Capital Markets specialists worldwide with offices in nearly 50 countries.
About Carr Properties
Carr Properties is a privately held real estate investment trust that owns, manages, acquires, and develops high-quality properties in Washington, D.C. and Boston, Massachusetts. The company currently owns a portfolio of 13 commercial office properties totaling approximately 4.2 million square feet and maintains a pipeline of three development projects that will add a further 2 million square feet of trophy-quality office space to the company's portfolio. Carr Properties continues to expand through strategic investments in the Washington, D.C. and Boston, Massachusetts areas. For more information, please visit carrprop.com.
About IGIS Asset Management
Headquartered in Seoul, Korea, IGIS Asset Management is an independent global real estate investment company with more than $33.5 billion of assets under management as of year end 2020. To learn more: igisam.com.
About JLL
JLL (NYSE: JLL) is a leading professional services firm that specializes in real estate and investment management. JLL shapes the future of real estate for a better world by using the most advanced technology to create rewarding opportunities, amazing spaces and sustainable real estate solutions for our clients, our people and our communities. JLL is a Fortune 500 company with annual revenue of $16.6 billion, operations in over 80 countries and a global workforce of more than 91,000 as of December 31, 2020. JLL is the brand name, and a registered trademark, of Jones Lang LaSalle Incorporated. For further information, visit jll.com.