Final Wood Beam Lifted to Roof of Capitol Riverfront Office Building for the Nation's First Overbuild, and the District's First Commercial Offices, to Rely Primarily on Mass Timber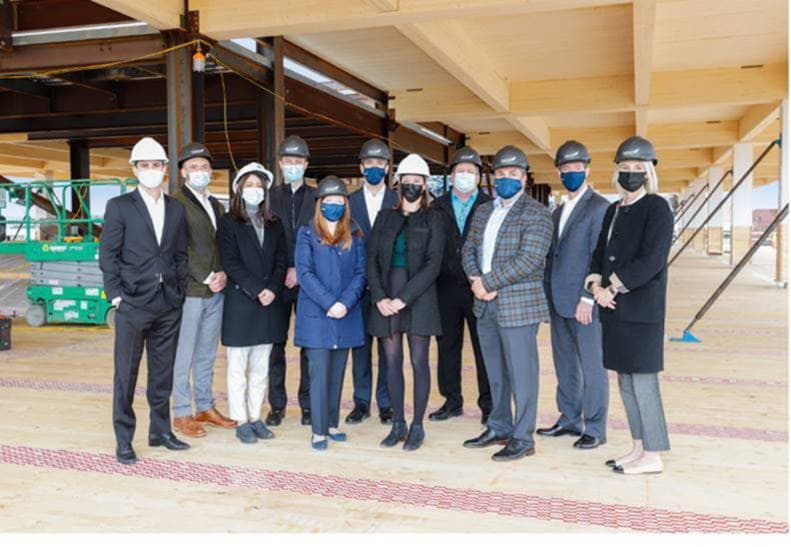 Columbia's 80 M Project Team: Caleb Kushner, Asset Management Analyst; Jesse Stephens, Sr. Director - Project Management; Risa Matsumoto, Associate; Pat Keeley, Sr. VP - DC Region Lead; Stacey Bernal, VP - Real Estate; Paul Teti, EVP - National Real Estate Operations; Morgan Monroe, Leasing Director; Bill Andes, Operations Manager; Anthony Vieira, Sr. Director - Construction; Kevin Hoover, EVP - Portfolio Management; Heather Taylor, Director - Property Management. (Credit: Shoootin)
Executives from Columbia Property Trust were joined on April 22 by general contractor DAVIS Construction, architecture and design firm Hickok Cole, construction firm Katerra, and a group of trade partners to celebrate the official topping out of 80 M Street's three-floor mass timber vertical expansion.
The project will add 105,000 square feet of light-filled, boutique-style space atop Columbia's existing Capitol Riverfront office building. Once completed in 2022, it will become D.C.'s first commercial offices to rely primarily on mass timber and glass, as well as the first overbuild in the nation to utilize mass timber as its main design element.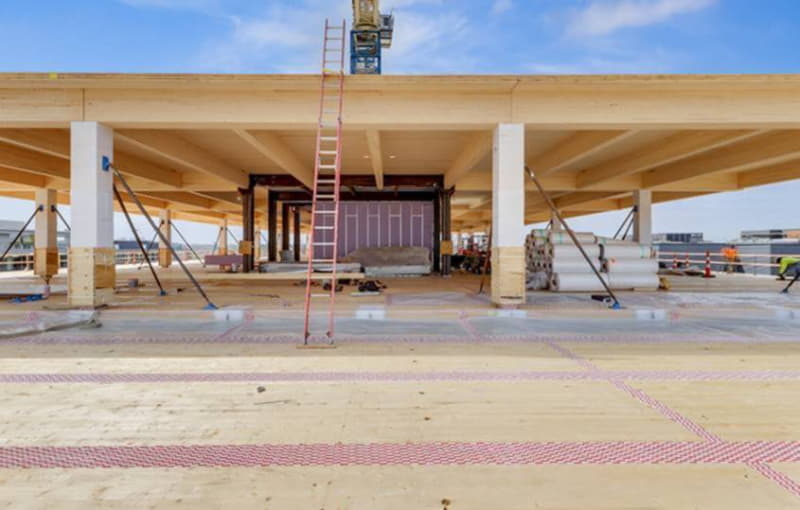 80 M Street Mass Timber Overbuild Tops Out (Credit: Shoootin)
"The mass timber expansion at 80 M will soon house D.C.'s most unique creative office space. We are indebted to our project team and trade partners for their dedication in helping us advance to the next phase of construction on schedule," said Patrick Keeley, Senior Vice President - D.C. Region Lead at Columbia Property Trust. "As the first in the District to employ this sustainable, cutting-edge building technique, our project has certainly captured the imagination of a wide range of local developers and builders who have asked to tour the project site in recent months."
More than half of the expansion will serve as the American Trucking Association's new headquarters. The remaining 55,000 square feet of office space created via the expansion remains available for lease. Columbia is also adding a new penthouse lounge amenity and an outdoor terrace for the benefit of all tenants in the building.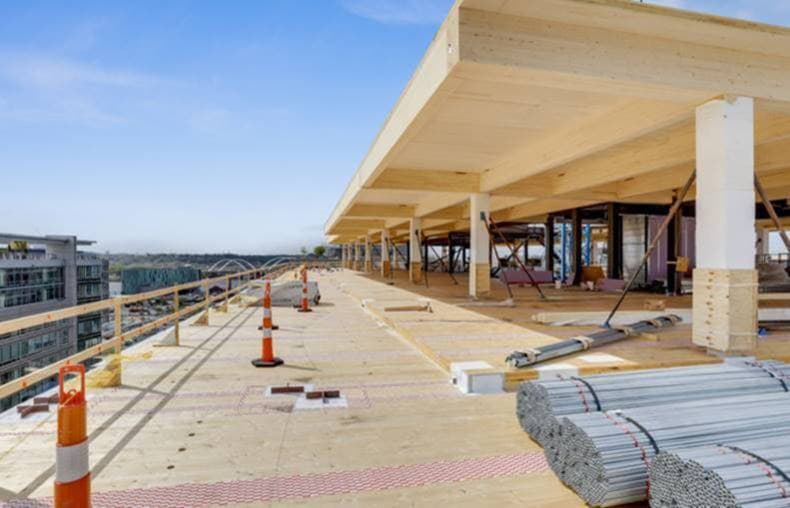 Views from 80 M Expansion (Credit: Shoootin)
Working with Hickok Cole, Columbia designed the overbuild in ways that would enhance productivity, health and wellness for the building's occupants. The mass timber's biophilic design will produce 15-foot ceilings and 12-foot windows – a combination that brings double the amount of light penetration possible in a standard D.C. office space – and 4,000 square feet of outdoor amenity space will further elevate the occupant experience. To create a seamless exterior aesthetic and a pop of color, the existing eight-story brick façade will be accented with terracotta tiles and painted metal exterior elements.
Over 1,380 tons of mass timber sourced from the forests of the Pacific Northwest and Eastern Canada were utilized for the project. Columbia worked with its partners to select the wood product for its blend of innovative design, environmentally-friendly features and modern efficiencies. Mass timber is a low-carbon alternative to traditional steel, concrete and masonry building and allows for increases in height with minimal impact on the overall structure. Mass timber projects can also be constructed faster and with less on-site labor.
In addition to the overbuild, Columbia is currently underway on a series of street-level improvements at 80 M, including the transformation of the entrance, lobby and amenity offerings. These renovations will give the building a more holistic design that elevates the experience of tenants and their guests from the moment they approach the entrance.
About Columbia Property Trust
Columbia Property Trust creates storied properties for legendary companies in New York, San Francisco, Washington D.C., and Boston. The Columbia team is deeply experienced in transactions, asset management and repositioning, leasing, development, and property management. It employs these competencies to grow value across its high-quality, well-leased office portfolio of 15 properties that contain more than six million rentable square feet, as well as four properties under development, and also has more than eight million square feet under management for private investors and third parties. Columbia is traded on the New York Stock Exchange under the ticker symbol "CXP" and has investment-grade ratings from both Moody's and S&P Global Ratings.