Addition to senior living community reflects commitment to residents' health and well-being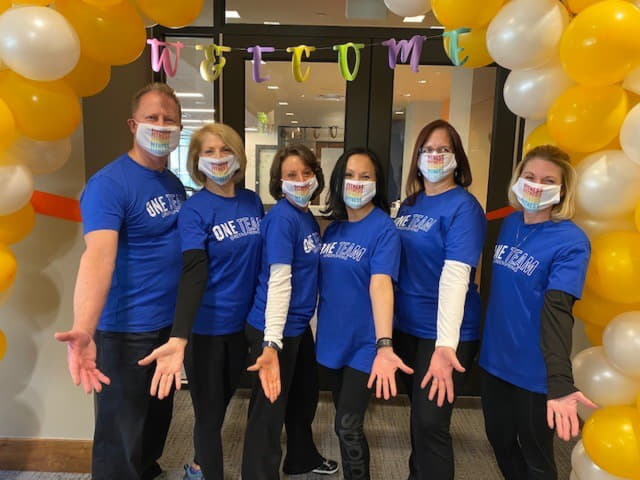 Greenspring, a senior living community managed by Erickson Living in Springfield, Va., recently celebrated the grand opening of its new Fitness and Aquatics Center with a ribbon-cutting ceremony and sneak-peek tours for residents, staff and guests.
"The opening of our new Fitness and Aquatics Center is an important milestone in our ongoing commitment to support residents' health and well-being as part of an active, engaged retirement lifestyle", said Chandra Kumar, Executive Director at Greenspring. "In addition to providing opportunities to stay physically active, the Fitness Center serves a hub of community life, where residents and staff can safely connect and socialize with one another."
Located in the Town Center clubhouse in the middle of Greenspring's private, 58-acre campus, the new Fitness and Aquatics Center is just a short, indoor stroll away from residents' maintenance-free apartment homes.
The enhanced amenities feature a variety of all-new equipment, including two ergometers, a state-of-the-art rowing machine, two different types of ellipticals, a functional trainer, and more. The large, bright space also includes a pickleball court and new fitness studio where residents can utilize the mirrors, dumbbells, bands, and stretch tubes during personal training sessions or group fitness classes.
"As long-time tennis players and swimmers, we are especially enjoying the new pickleball court and pool," said Doug Shimmons, who moved to Greenspring from Old Town Alexandria with his wife Laura four years ago this July. "The high ceilings and spacious court provide plenty of space to lob and slice the ball, and the pool temperature is always perfect. Exercise is so important, especially as you age; plus, it's a great opportunity to meet people and socialize. After a workout, I love sitting outside in the comfortable chairs to read or just enjoy the sunshine."
Greenspring's expert fitness staff offer both personal training and a diverse range of group fitness options, from Zumba to drumming. Residents can participate in Fitness Center classes and more with limited capacity and by appointment. "They have so many great fitness classes, for all levels," said Laura.
In the Aquatics Center, residents enjoy the zero ramp entry, three full lap lanes, and spa. Water-based classes such as aqua aerobics continue to be popular options for residents who enjoy staying active in the pool.
"We are thrilled to be able to welcome residents to the new Fitness and Aquatics Center," said Brad Hibbs, Fitness Manager. "Not only for the physical benefits of exercise, but for social and mental health, as well. Some of our trainers have been with us for more than 15 years! Those relationships are so important and something we've all really missed over the past year. It's wonderful to be able to share our passion for health and well-being once again, especially in this amazing new space."
Consider Greenspring if you are interested in living an active, vibrant retirement lifestyle. In addition to the brand-new fitness center, beautiful walking paths, resort-style amenities, an on-site medical center staffed by full-time medical professionals, and new friends await. Request more information today.
About Greenspring: Greenspring, one of 20 continuing care retirement communities developed and managed by Erickson Living®, is situated on a scenic 58-acre campus in Springfield, Virginia. The non-profit community of more than 2,000 residents and 950 employees is governed by its own independent board of directors which is supported by National Senior Campuses, Inc. www.nationalseniorcampuses.org. The board provides financial and operational oversight for the residents. Additional information about Greenspring can be found at www.GreenspringCommunity.com.