The website explores topics in endoscopy with weekly posts on single-use endoscopy, infection prevention, emerging technologies, and health economics.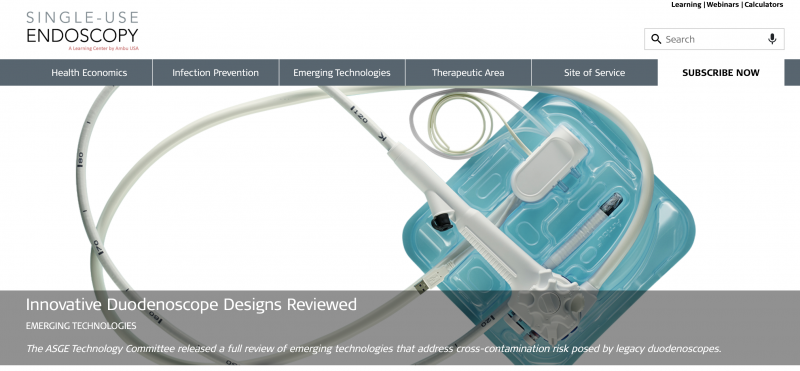 Ambu Inc., a rapidly growing medical device maker and pioneer of sterile, single-use endoscopes, has launched a new website called SingleUseEndoscopy.com geared to physicians, nurses, infection-control specialists, purchasing and supply-chain managers and hospital system executives.
The website explores topics in endoscopy with articles on single-use endoscopy, infection prevention, emerging technologies, and health economics. Live and on-demand webinars as well as videos are also utilized to dive into this subject matter.
Some of the topics that have been chronicled include endoscope reprocessing challenges, new technological advancements such as the use of artificial intelligence in endoscopy, and new and updated endoscope reprocessing guidelines during the COVID-19 pandemic.
"We created SingleUseEndoscopy.com to explore topics in endoscopy and the work being performed in hospitals, clinics and private practices," said Klaas-Pieter Jimmink, Ambu's director of marketing communications. "Our goal is to be a valuable resource to a broad range of health care experts as they navigate the changing field of flexible endoscopy. Whether you're a physician, nurse, infection-control specialist, purchasing and supply-chain executive, or a hospital system CEO anyone with an interest in the changing field of flexible endoscopy will find singleuseendoscopy.com a valuable resource of weekly news and information."
As the website evolves it will offer readers accredited continuing education courses as well as closed-group communities for clinicians. It is already partnering with respected key opinion leaders, such as Dr. J. Hudson Garrett Jr., assistant professor of medicine at the University of Louisville School of Medicine, Lawrence F Muscarella, an independent safety expert and president of LFM Healthcare Solutions, LLC. Articles and videos are already being a posted on SingleUseEndoscopy.com's social media channels, including LinkedIn, Twitter and Facebook.
Readers will soon be able to subscribe to a weekly newsletter devoted to gastrointestinal endoscopy.
Ambu launched the world's first single-use flexible bronchoscope, the Ambu® a Scope™, in 2009. In 2020, more than 1 million Ambu single-use endoscopes will be used in more than 6,000 hospitals making Ambu the world's largest supplier of single-use endoscopes.

Ambu launched three new products in its Visualization business in 2020. It received 510(k) clearance from the FDA in April 2020 for its single-use cystoscope. Ambu introduced the aView™ 2 Advance, a new full-HD monitor technology platform, in May 2020. And in July 2020 the FDA cleared its single-use duodenoscope. By 2023, Ambu expects to introduce another 20 new devices across all major areas of endoscopy, including GI, the largest endoscopy market globally.

The company was recently named a global new product innovation award winner by Frost & Sullivan, a global consulting firm that honors companies it deems to be at the innovation and growth forefront in their industries. Frost & Sullivan selected Ambu for its work in single-use flexible endoscopy, citing its success building a new business model focused on leveraging new technology to better address patient needs.


Meanwhile, two Ambu products — the Ambu® aScope™ 4 Cysto and Ambu® aScope™ Duodeno —were also recently honored with Red Dot design awards, and the aScope Duodeno was honored by the international jury in the innovative products category.